WANT 5% OFF THIS ITEM? - More info
Regular price
Sale price
£3,098.00
Unit price
per
Sale
Sold out
Part Exchange / Trade In Quote?
CUSTOM TOROIDAL POWER TRANSFORMER
Power transformers generate two types of noise, magnetic and acoustic. That's why toroidal power transformers are used in the very best audio products. Compared to standard transformers, toroids radiate about 1/10 the magnetic field that pollutes music and obscures detail. Additionally, the absence of an air gap typically means toroids have an 8:1 reduction of acoustic noise. As transformers are the most expensive components in any audio product, manufacturers will even house cheaper C-core and EI-core transformers in an outboard power supply box with an umbilical cable rather than upgrade to an expensive toroid. The increased cost is significant, but PrimaLuna doesn't cut corners. All PrimaLuna products use massive, potted toroidal transformers. PrimaLuna transformers are enclosed in a metal housing and then potted in a non-microphonic resin to further reduce noise and to protect the windings from moisture and deterioration forever.
CUSTOM SUPER-WIDE-BANDWIDTH OUTPUT TRANSFORMERS
Output transformers are the most important part of any tube amp. They determine how low the bass will reach and how high the top end goes. 250 watts of power will have no top and bottom extension if the output transformers don't have the bandwidth. We use lower power to extend tube life, and bandwidth to give you slam. Transformers are the most expensive components in an amplifier, so manufacturers save money by using 'off the shelf' units available on the market. PrimaLuna output transformers are custom-designed, wound in-house, and massive. One reason why no other brand sounds like a PrimaLuna. "The flat tops and bottoms of these squarewaves correlate with the amplifier's extended low-frequency response; PrimaLuna's output transformers are of excellent quality." -John Atkinson, Stereophile Magazine
SUPERQUIET LINE INPUTS
Input selector switches leak noise and signals from other sources, as they never turn off the other inputs completely. And, they deteriorate with age, requiring the use of cleaners. Many are mounted on the front panel requiring long runs of wires to the back panel inputs. These wires pick up stray noise from RF and EMI.
PrimaLuna has a better way. Instead of a switch, input selection is done using premium quality sealed relays mounted in the rear where you plug in your components. When an input is selected, that relay closes giving you the best connection possible. All the other relays are left open, so noise and signals from other sources can't leak in. The signal path is now almost non-existent, so there are no wires to pick up noise.
ADAPTIVE AUTOBIAS
What most companies call Auto Bias is actually "Cathode Bias"- A commonly used method that is cheap to make, and often found in guitar amps, but also $20,000 high end audio amps. It reduces the available power of the amp and runs the tubes hard, meaning shorter tube life and failures via "shorts".
PrimaLuna's Adaptive AutoBias is a true, smart technology employing an array of sensors to monitor tubes and make adjustments seamlessly in real time. More important, it is the ONLY circuit of its kind that is truly "adaptive" by addressing "tube pinch off" at higher volumes, therefore reducing distortion by over 50% and greatly extending tube life. Adaptive AutoBias is completely passive and NOT in the signal path. The result is low to no maintenance, long tube life, and the lowest possible distortion for amazing sound.
Adaptive AutoBias also provides unparalleled flexibility by allowing use of almost any tube on the market today. It even has a fine-tuning switch for EL-34 and KT88/KT120/KT150 tube types.
POINT TO POINT WIRING
You spend a lot of money on interconnects. So why have the signal go right from the RCA jacks or speaker terminals into circuit boards with copper traces so thin you can hardly see them? What's high-end about that?
PrimaLuna employs Point to Point Wiring on all products. The entire signal path, including resistors and capacitors, is painstakingly hand wired with heavy-gauge cable by craftsman.
NO INTERNAL DAC / NO INTERNAL PHONOSTAGE
Never buy an integrated amp with an internal DAC. Why? Because digital changes, and history shows that integrated amps with "old" digital become unwanted and have almost no resale value. 
Built in phonostages are "throw in" and are rarely good quality because manufacturers assume 90% of buyers won't use them. The external phonostage market is very competitive. You can get something much better for as little as $200, and buy one that actually meets your cartridges needs and YOUR budget.
BAD TUBE INDICATOR
PrimaLuna engineers wanted to make owning a tube amp so simple you would have no excuse not to have your tube dreams come true.
If a tube fails, Adaptive AutoBias will instantly put the amplifier into protection mode so no parts can get damaged. A red LED will light up in front of the tube that needs replacing. Simply plug in another tube, and listen. No guesswork. No smoking amp. No getting out the soldering iron or dropping your amp off at UPS. 
Features
Headphone Amplifier
SuperQuiet Inputs
Slim Remote Control

Adaptive AutoBias

Point-to-point Wiring

Bad Tube Indicator

ALPS Blue Velvet Potentiometer

KT150 Compatible
Specs
Power
Ultra-linear
44 watts x 2 (EL34)
(8Ω, 1% THD)
Inputs
4x Stereo RCA
Stereo RCA HT Bypass
Outputs
4 & 8 Ω
Stereo RCA Tape Out
1/4" Headphone
Freq. Response
10Hz-65kHz +/- 1dB
THD
< 0.2% @ 1W
< 2% @ Rated Power
S/N Ratio
86 dB, 95 dBA
Input Sensitivity
275mV (EL34)
Power Consumption
280 watts (EL34)
Standard Tube Complement
4 - 12AU7
4 - EL34
Dimensions (WxHxD)
14.4" x 8.1" x 15.9"
Weight
52.8 lbs
Share
View full details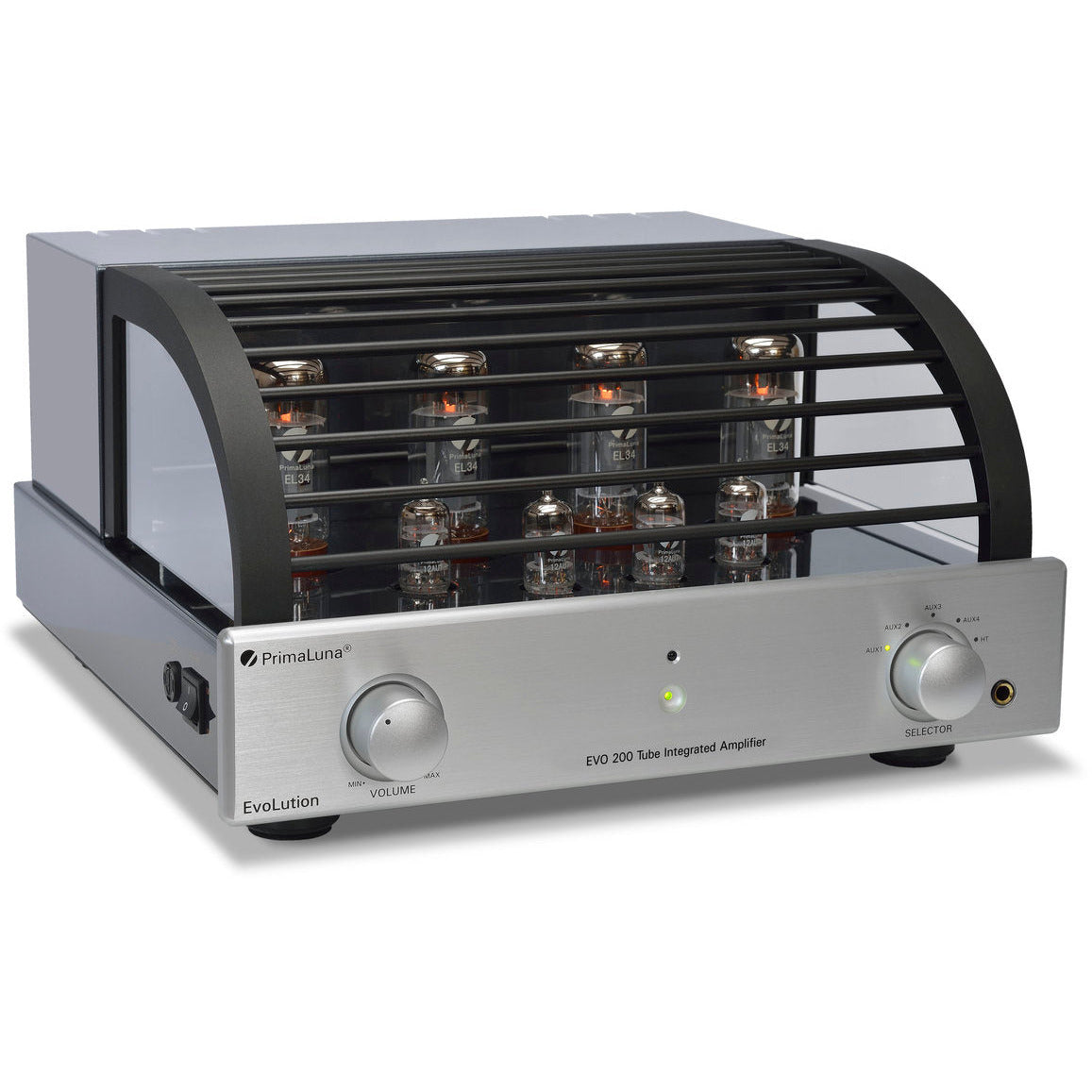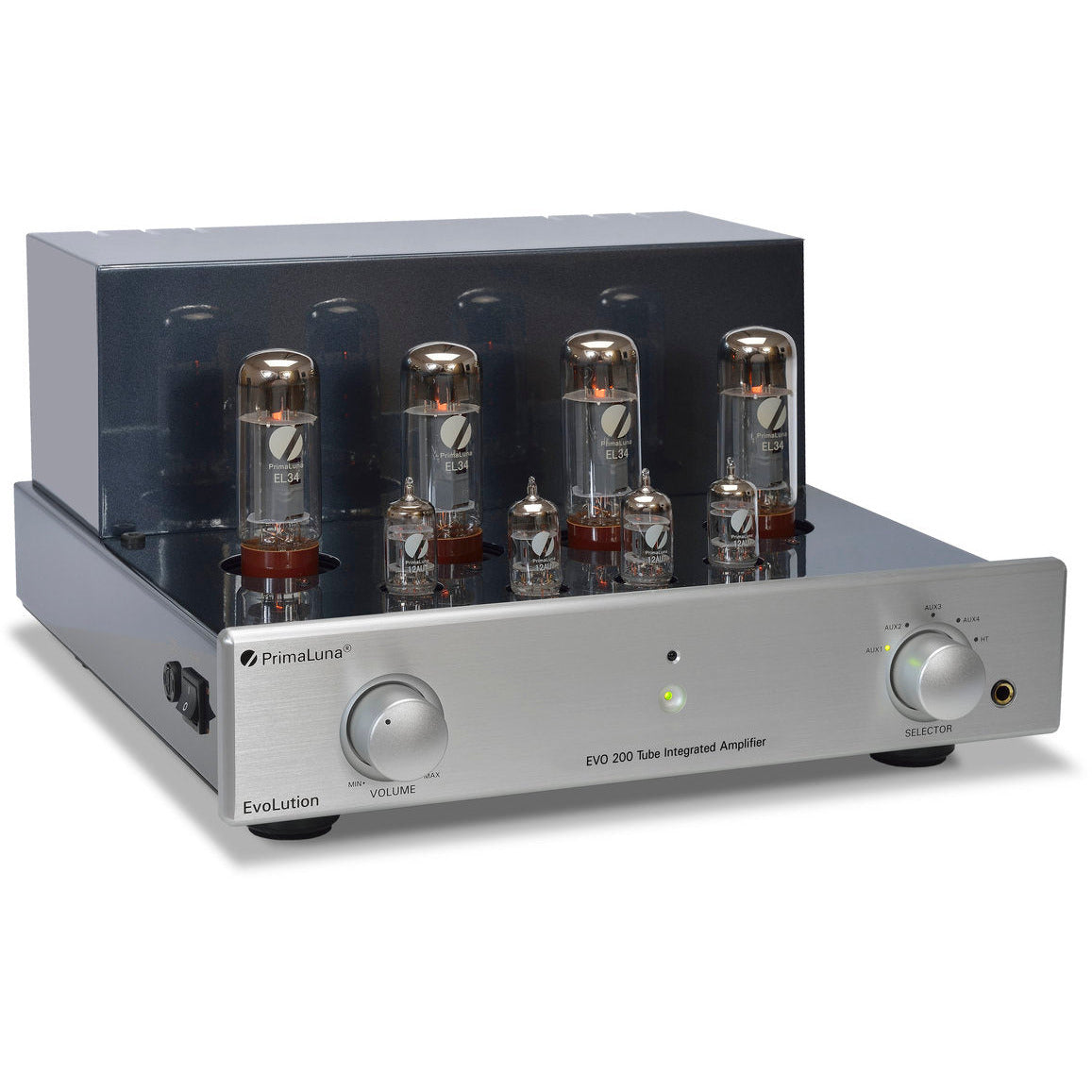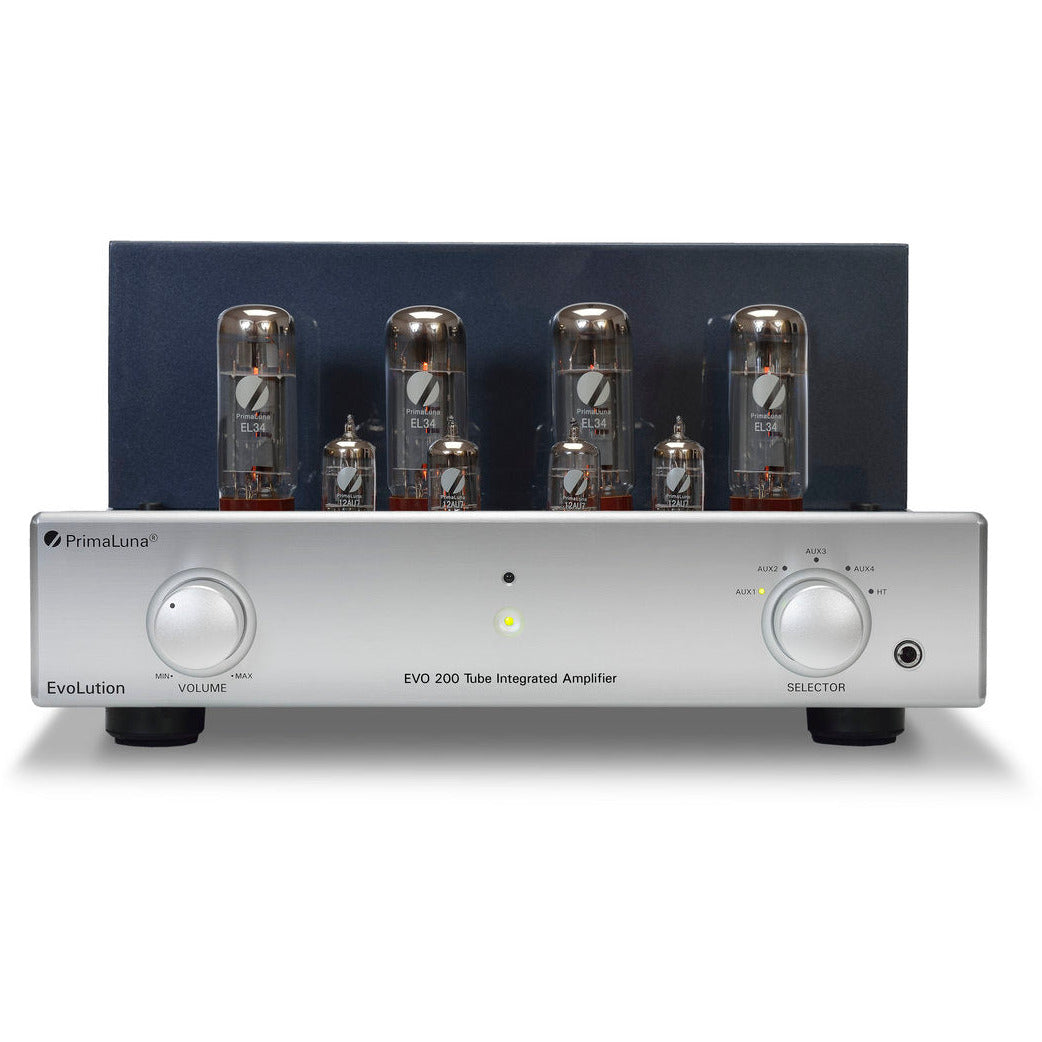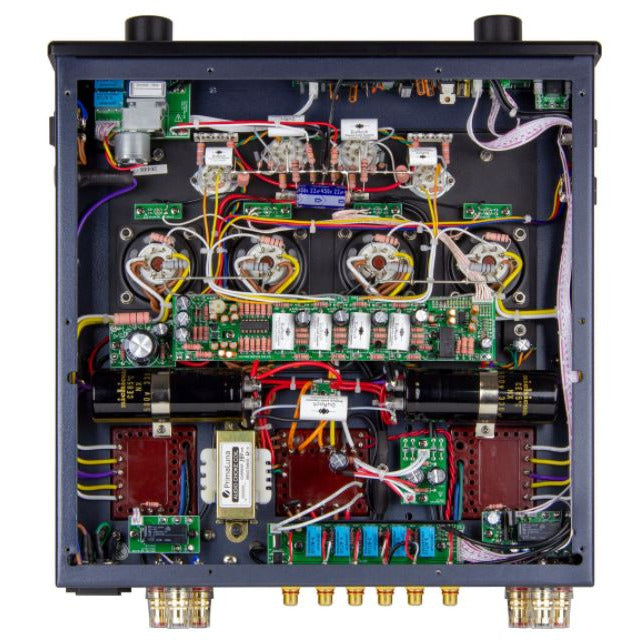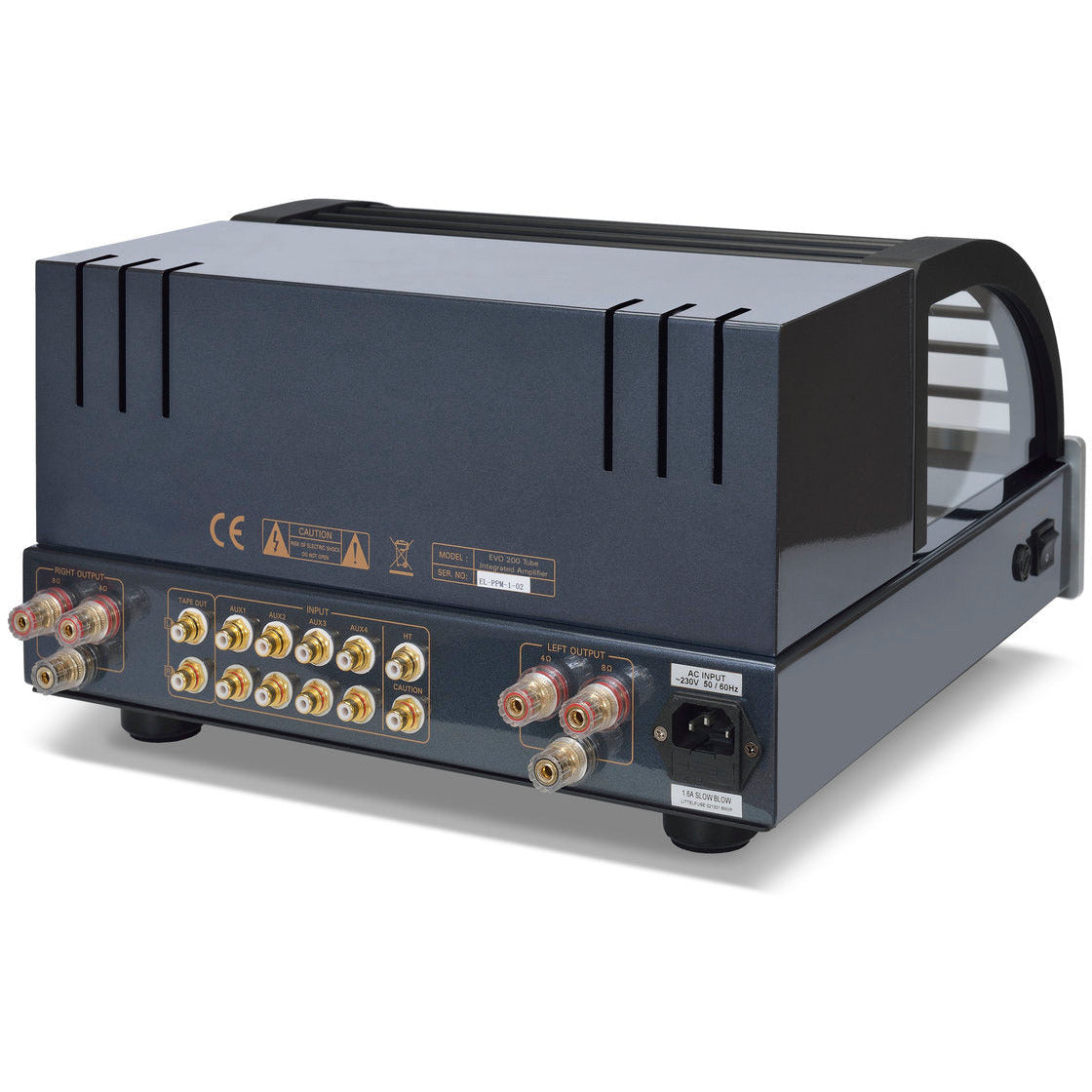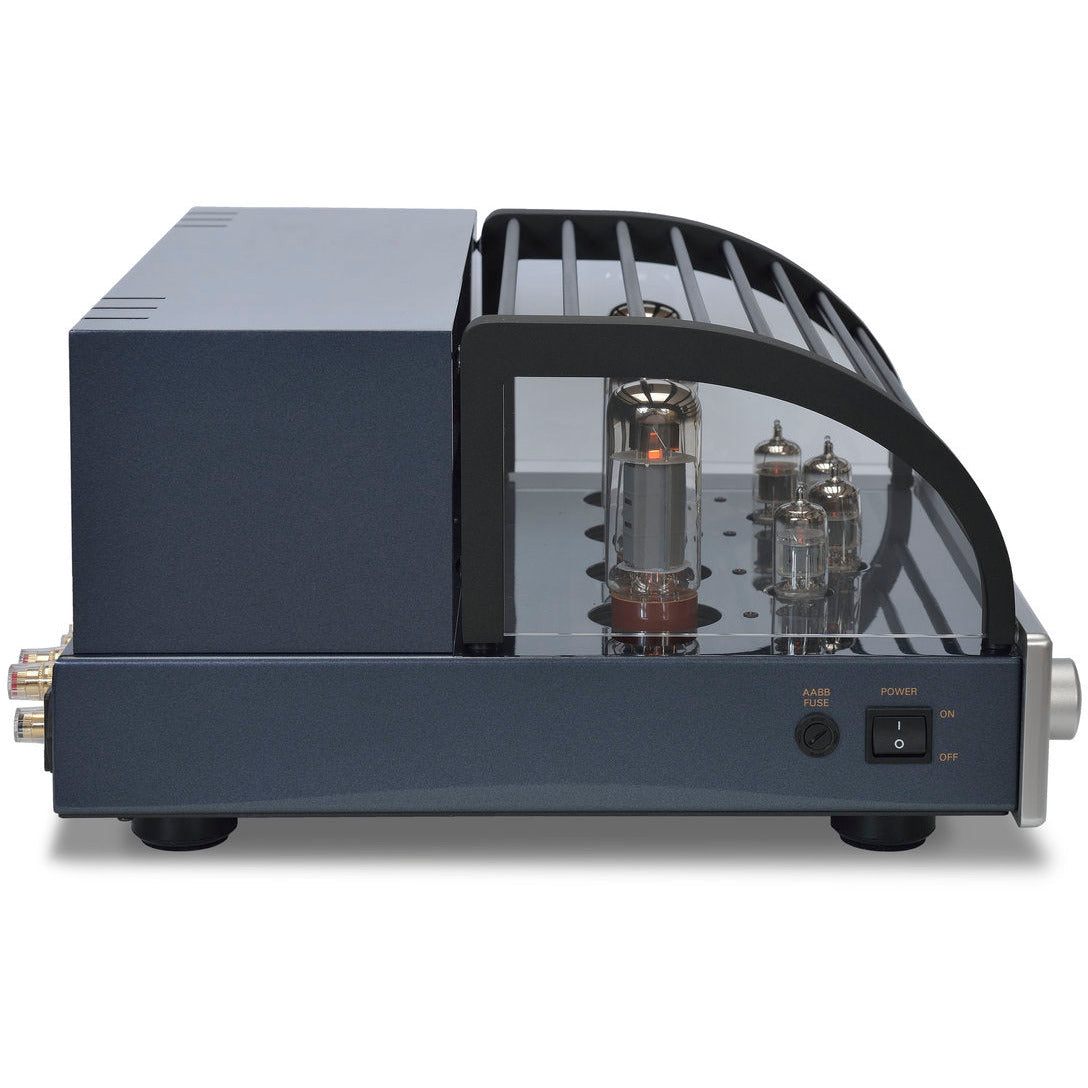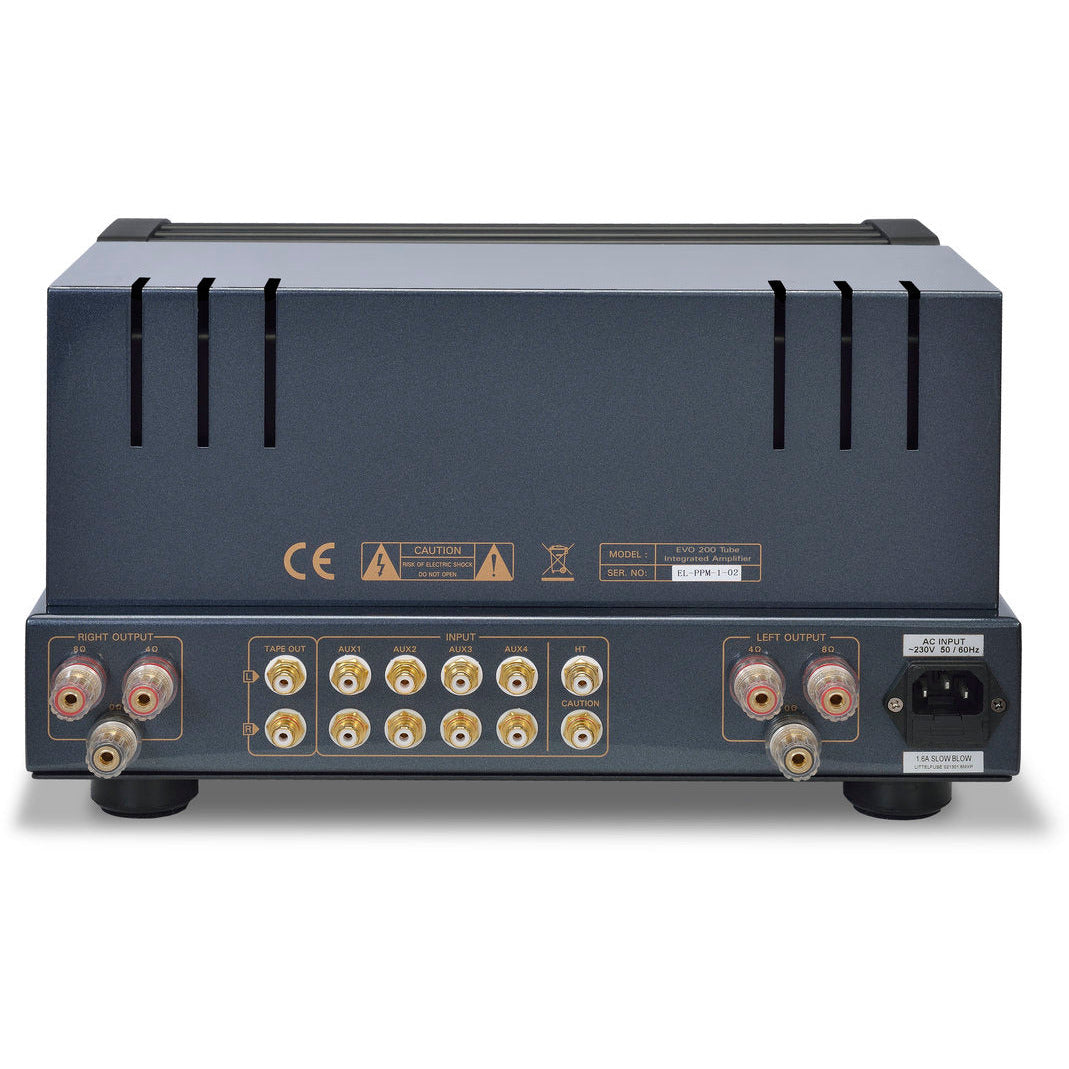 5% Discount
When you shop with Kronos AV, we want you to have the best experience possible, so if you are shopping with us for the first time, add any item to your cart and you will get 5% discount off your order. Just a little thank you for supporting a family owned and operated company, providing HiFi components for over 35 years. 
Please note: Excludes Sale, USED / EX Display / Ex Demo products
Buy with Confidence
OVER 10,000 happy customers