WANT 5% OFF THIS ITEM? - More info
Regular price
Sale price
£3,199.00
Unit price
per
Sale
Sold out
Part Exchange / Trade In Quote?
Parasound's new Halo A 23+ power amplifier is the new successor to the highly regarded A23.

This new incarnation of Parasound's endeavour to learn, improve and upgrade performance for the HALO range is a testament to the dedication they have done historically with all products. The goal is always to enhance where necessary and to improve the things that really matter at the critical levels, and that is always coupled with ensuring that the customer actually enjoys all the benefit!
Richard Schram, John Curl and the Parasound team's continuous development of their exemplary product line, naturally led them to learn from the new HINT 6 in many respects in order to upgrade the A23 suitably to partner with the new and improved P6 Pre-amplifier (arguably the A23+'s fellow in audio partnership), and as such they have clearly outlined below some of the key enhancements and new features of the A23+
New Features (Changes from the original A23):
Power up from 125 → 160 Watts (8Ω)
Power up from 225 → 240 Watts (4Ω)
Power up from 400 → 500 Watts (bridged)
Improved Filter capacitance: 40,000 uF →54,400 uF
Improved Crosstalk performance (20kHz): 63dB → 70dB
Increased Transformer size: 1.0 kVA → 1.1 kVA
Refined Halo cosmetic with aluminium end caps & gold highlights
Updated rear panel with heavy duty speaker terminals from HINT 6
Upgraded internal gold on gold audio connections
Updated auto turn on circuit
Parasound's new Halo A 23+ Amplifier with these latest embellishments is now a modern classic, with it's high current Class A/AB amplification, smooth sounding MOSFET drivers, and balanced XLR inputs, this mighty amp will make any speaker sound better than ever before.
The new A23+ two channel amplifier now boasts 160 watts of power per channel into an 8 ohm load, and even 225 watts per channel into a 4 ohm load. It can of course be used effectively as a 'mono-block' in bridged mode as well meaning that you can get up to a very dexterous 500 watts into an 8ohm load for those of you requiring huge power into larger more challenging loads or larger spaces.
As you would expect the build quality and components used in the A23+ are like all of Parasound's range - are very high quality. Internally the new A23+ has upgraded internal gold on gold audio connections (cleaner signal path and more reliable.), a new larger main power transformer (10-15% larger), tweaked input circuits for improved crosstalk specs and in conjunction with the larger transformer - an improved power supply for lower distortion at full power. Even the audio trigger circuit has been updated for better control and sensitivity...
Externally in terms of upgrades on the visuals - the revised A23+ now has the slim metal end caps (replacing the wider plastic end caps), added gold metallic accent stripe along end cap, an engraved metal PARASOUND badge replaces the red P and gold feet now adorn the black units. In addition, the revised rear panel layout and features upgraded speaker terminals (A23+ gets the same new HINT 6 terminals.), a new jack/terminal layout with more space and more clear text/labels and the 2.5mm trigger jacks replaced with more 'standardised' 3.5mm jacks.
These upgrades are 'real-world' updates, not just an attempt to 'rebadge' the A23 - these are small but plentiful improvements that when combined together with the deftness and dedication Parasound are famous for make a BIG difference.
The new and improved Parasound Halo A23+ is available in black and silver finishes - please specify on order.
Features & Benefits:
160 watts x 2 @ 8 Ω RMS, both channels driven
240 watts x 2 @ 4 Ω RMS, both channels driven
500 watts x 1 @ 8 Ω, in bridged mode
Circuitry designed by legendary John Curl
High bias Class A/AB operation
45 amperes peak current per channel
Stable with speaker impedance dips below 2 Ω
Balanced inputs with discrete circuits
Heavy-duty 24k gold-plated 5-way speaker binding posts
Gold-plated RCA input & loop output jacks
Direct-coupled signal path, no capacitors or inductors
DC Servo and relay protection circuits
AC turn-on inrush surge protection with relay bypass
JFET input stage, MOSFET driver stage
12 beta-matched 15 ampere, 60 MHz bipolar output transistors
1.1 kVA shielded toroid transformer w/ independent windings for each channel
Independent power supplies for input stage, driver stage and output stage
54,400 µF filter capacitors for output stages
Full power is rated all the way down to 5Hz for unrestricted low-end bass
Harris hyper-fast soft-recovery bridge diode rectifiers
Automatic turn-on by 12 V trigger or audio sensing
2 rack space chassis with rear carry handles
Rack mount hardware available separately
Available in silver or black
Specs
Power Output – Stereo Mode (0.06% THD)
  160 watts x 2, 8 Ω both channels driven
  240 watts x 2, 4 Ω both channels driven
Power Output – Stereo Mode (0.9% THD)
  210 watts x 2, 8 Ω both channels driven
  300 watts x 2, 4 Ω both channels driven
Power Output – Bridged Mode (0.06% THD)
  500 watts x 1, 8 Ω
  NOTE: Bridged 4 Ω operation is not recommended
Power Output – Bridged Mode (0.9% THD)
  600 watts x 1, 8 Ω
  NOTE: Bridged 4 Ω operation is not recommended
Current Capacity:
  45 amps peak, per channel
Slew Rate:
  > 130 volts per microsecond
Frequency Response:
  5 Hz - 100 kHz, +0/-3 dB
  20 Hz - 20 kHz, +0/-0.25 dB
Total Harmonic Distortion (THD)
  < 0.06 % at full power
  < 0.03 % at typical listening levels
IM Distortion
  < 0.04 %
TIM
  Unmeasurable
Inter-channel Crosstalk
  > 85 dB at 1 kHz
  > 70 dB at 20 kHz
Input Impedance
  Unbalanced: 33 kΩ
  Balanced: 66 kΩ,(33 kΩ per leg)
Total Gain
  29 dB
Input Sensitivity for 28.28 V Out (8 Ω Load)
  Unbalanced: 1 V
  Balanced: 1 V per leg
S/N Ratio
  > 112 dB, input shorted, IHF A-weighted
  > 107 dB, input shorted, unweighted
Damping Factor
  > 800 at 20 Hz
DC Trigger Requirements
  +9 Vdc to +12 Vdc, 5 mA
Audio Trigger Requirements
  2 mV - 10 mV
XLR Pin Identification
  1 = Ground (Shield)
  2 = Positive
  3 = Negative (Return)
Dimensions
  Width: 437 mm
  Depth: 388 mm
  Depth, with cables: 432 mm
  Height, with feet: 105 mm
  Height, without feet: 89 mm, 2U
Net Weight
  12.2 kg
Shipping Weight
  14.4 kg
Power Requirement
  Standby:   Idle (no music playing): 75 Watts
  Typical Listening levels: 125 Watts
  Maximum: 800 Watts
  110-125 VAC 60 Hz or 220-250 VAC 50 Hz
Resources & Downloads:
Parasound Halo A23+ Two Channel Amplifier Owners/Installation Manual
Share
View full details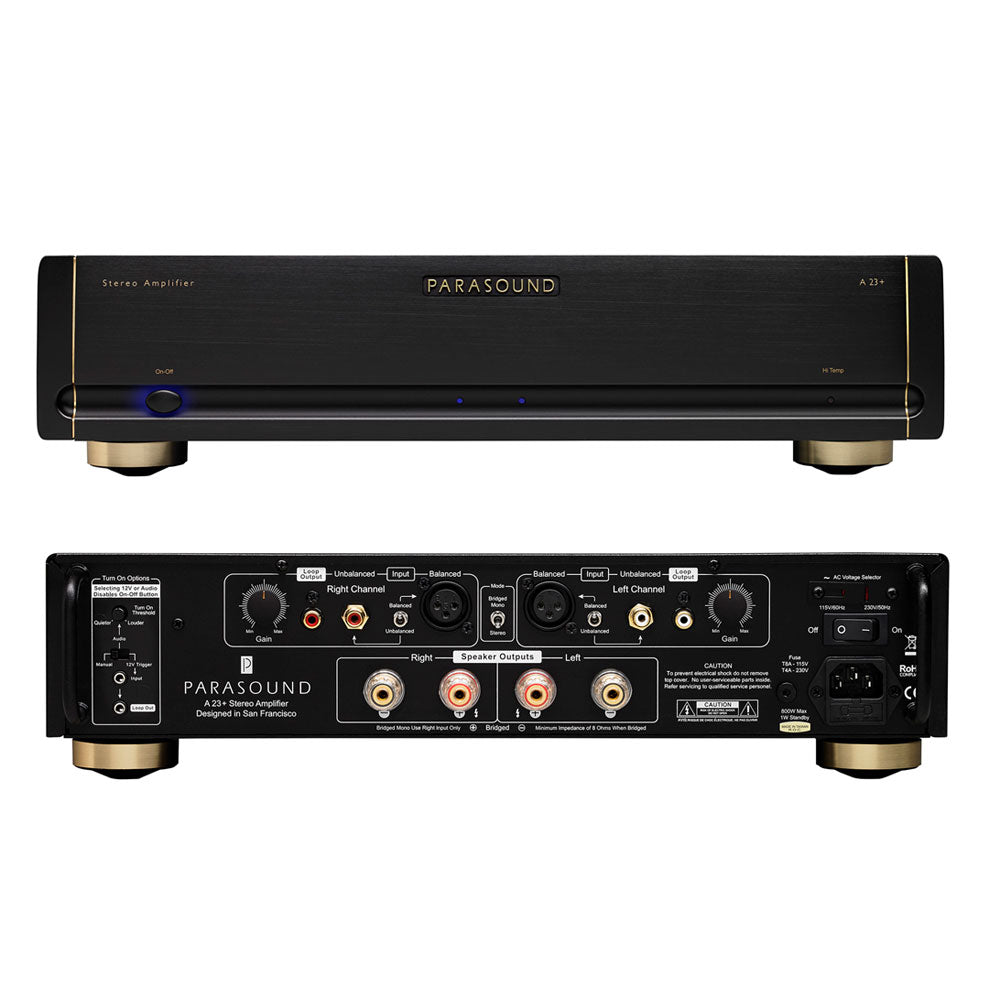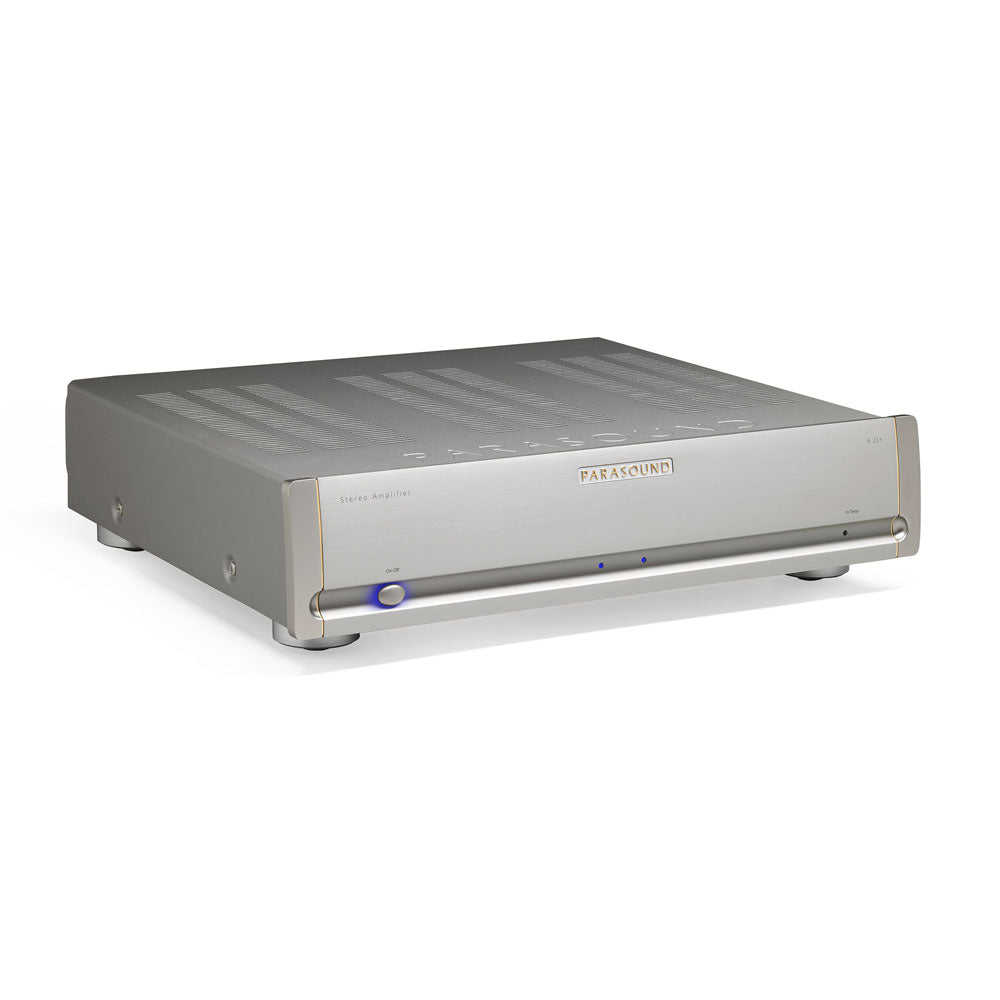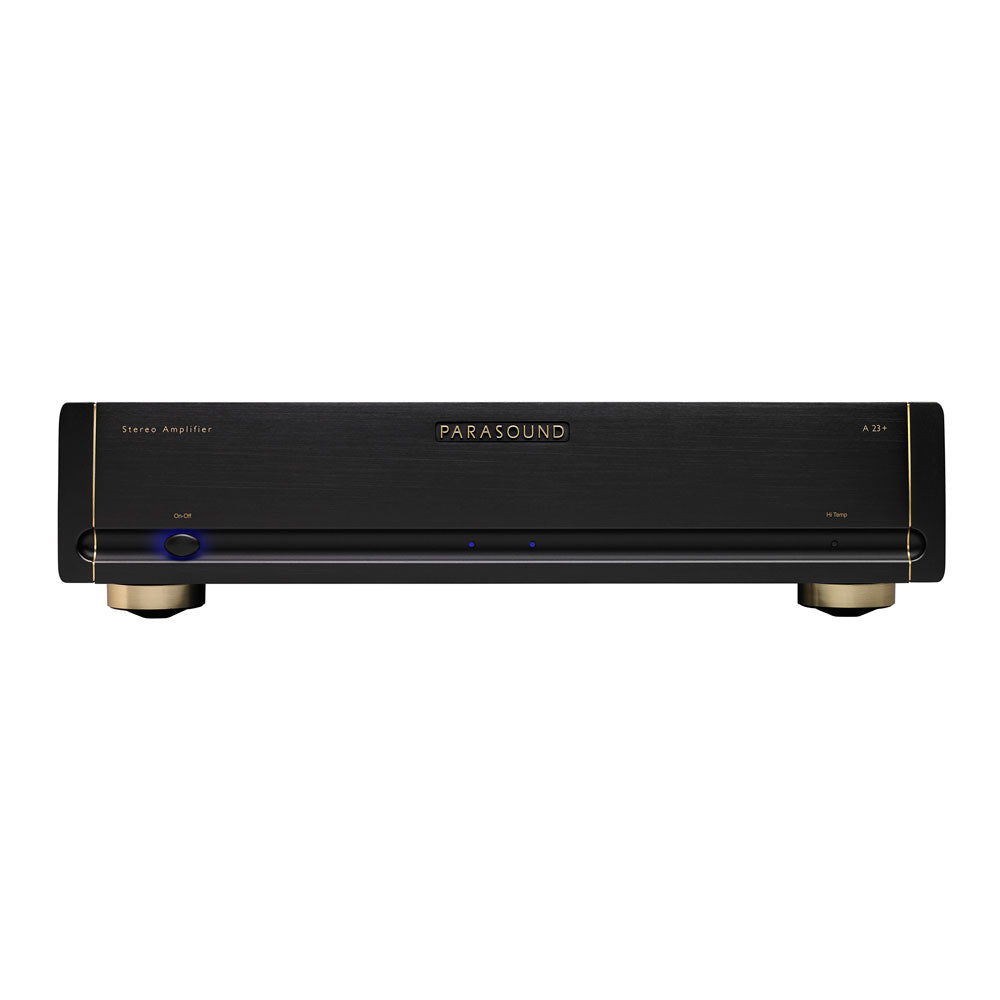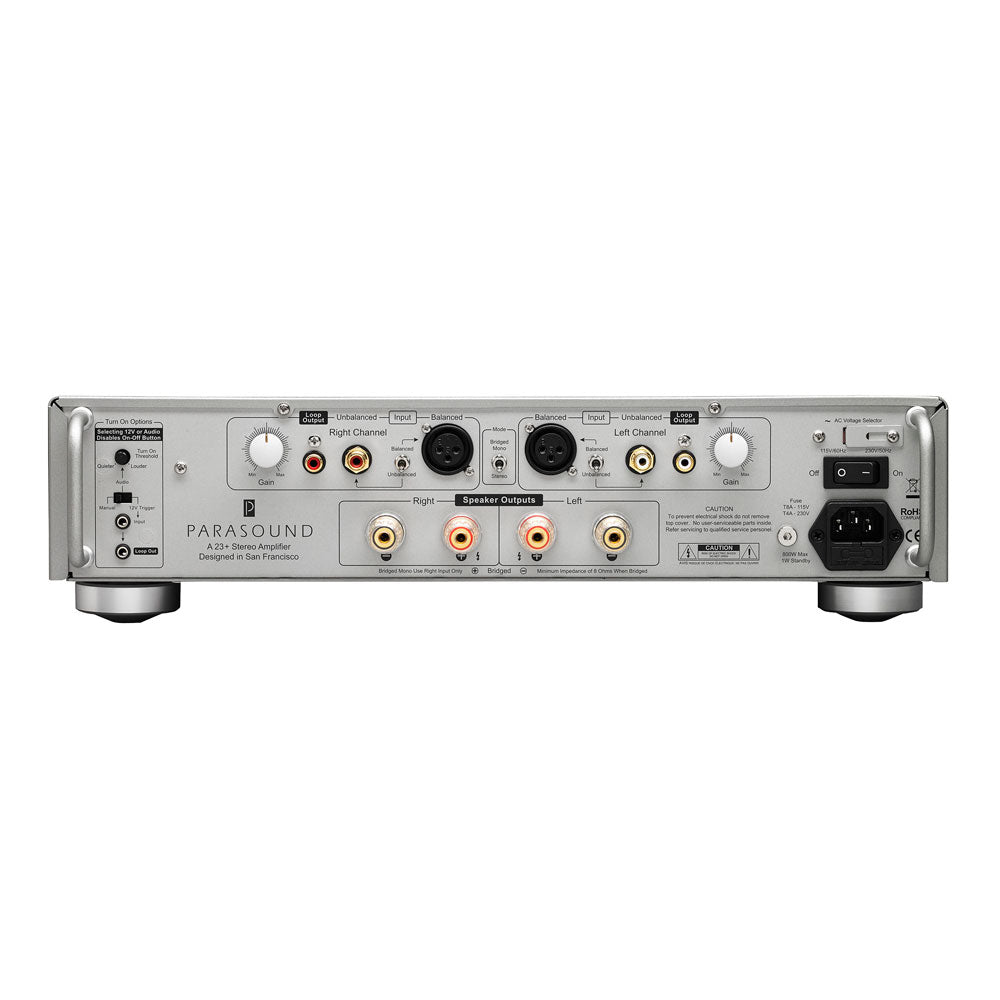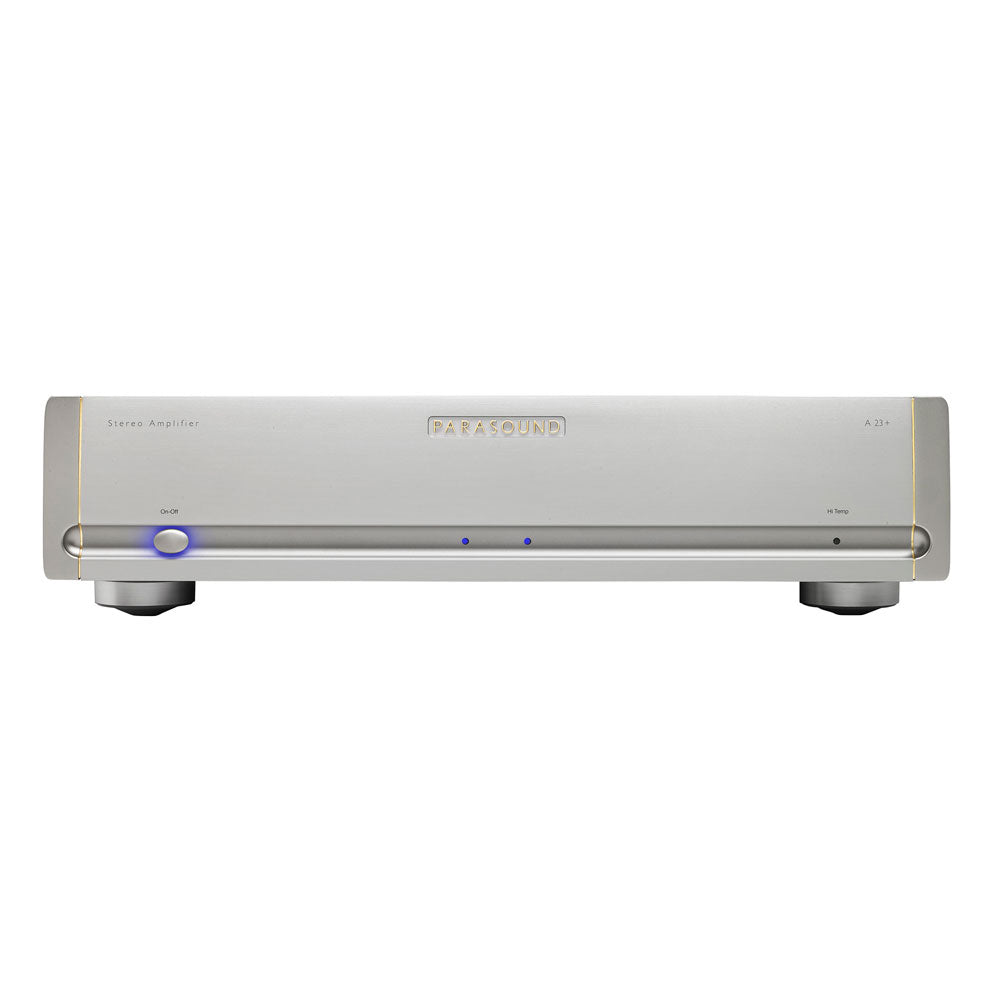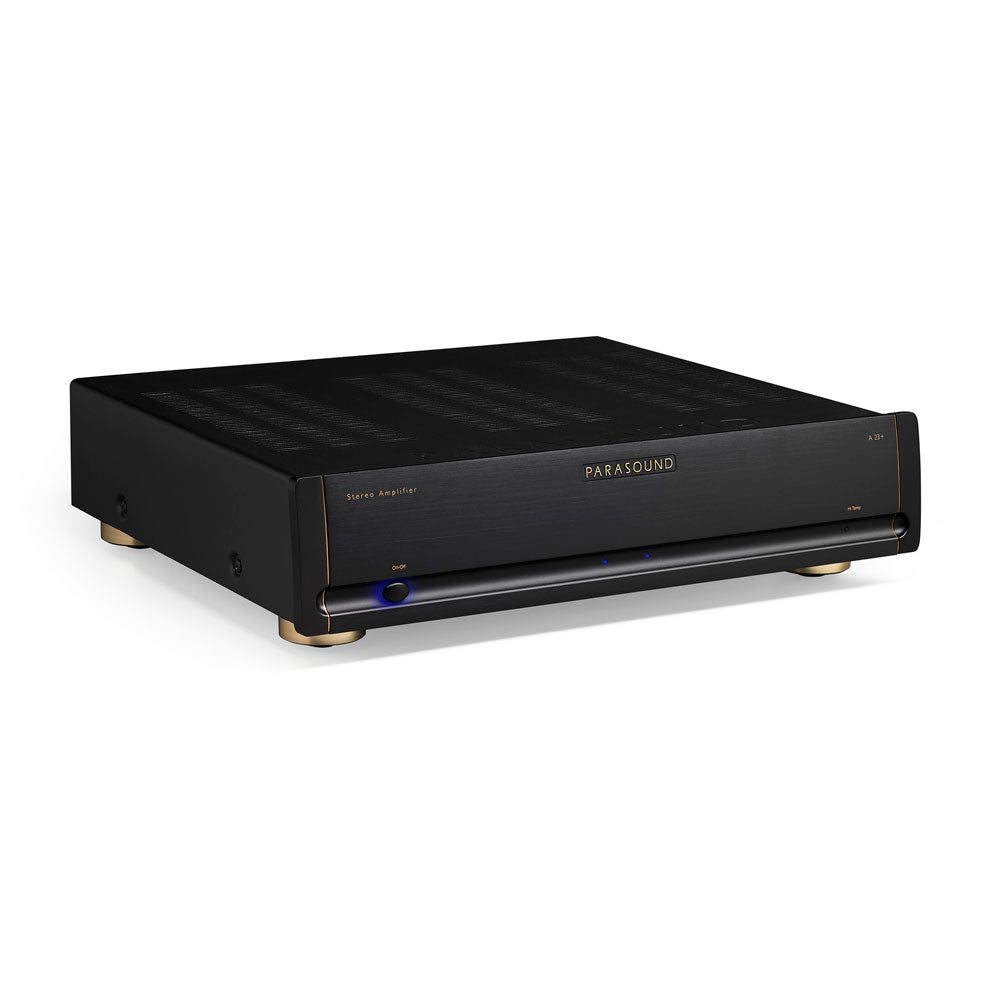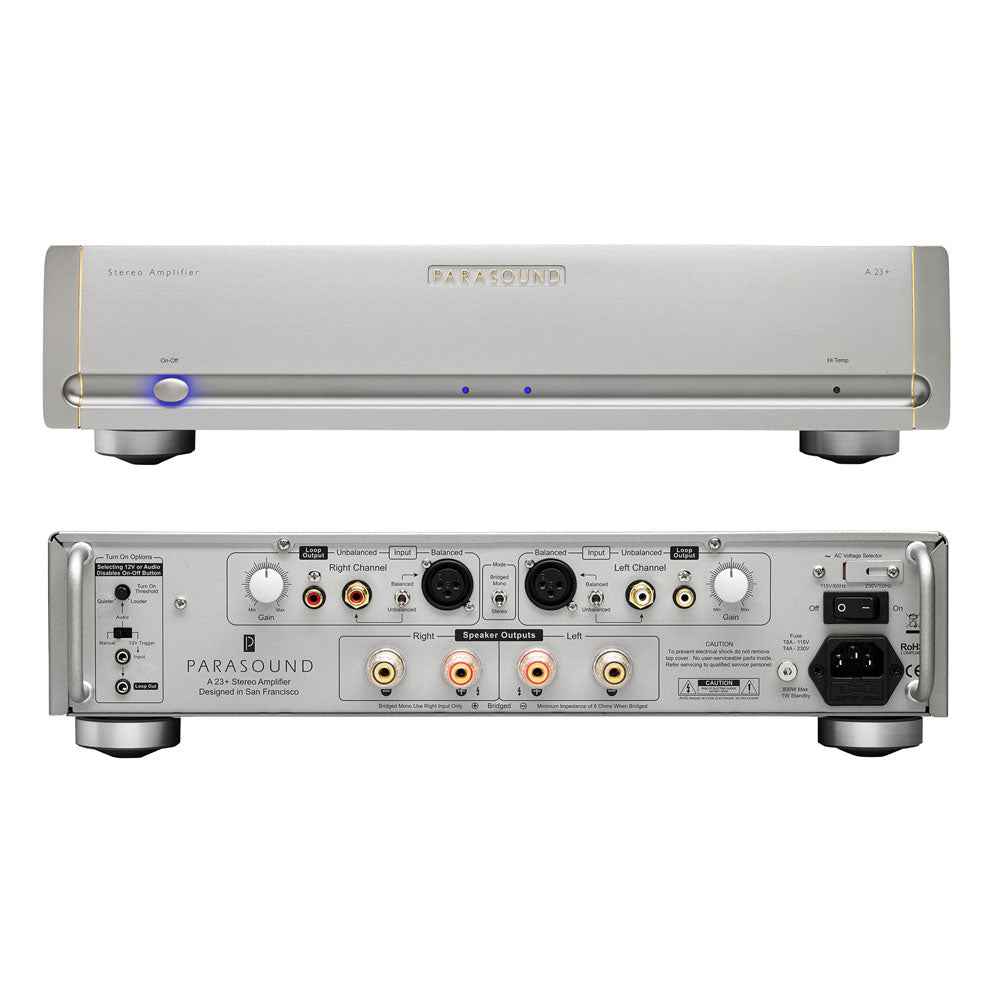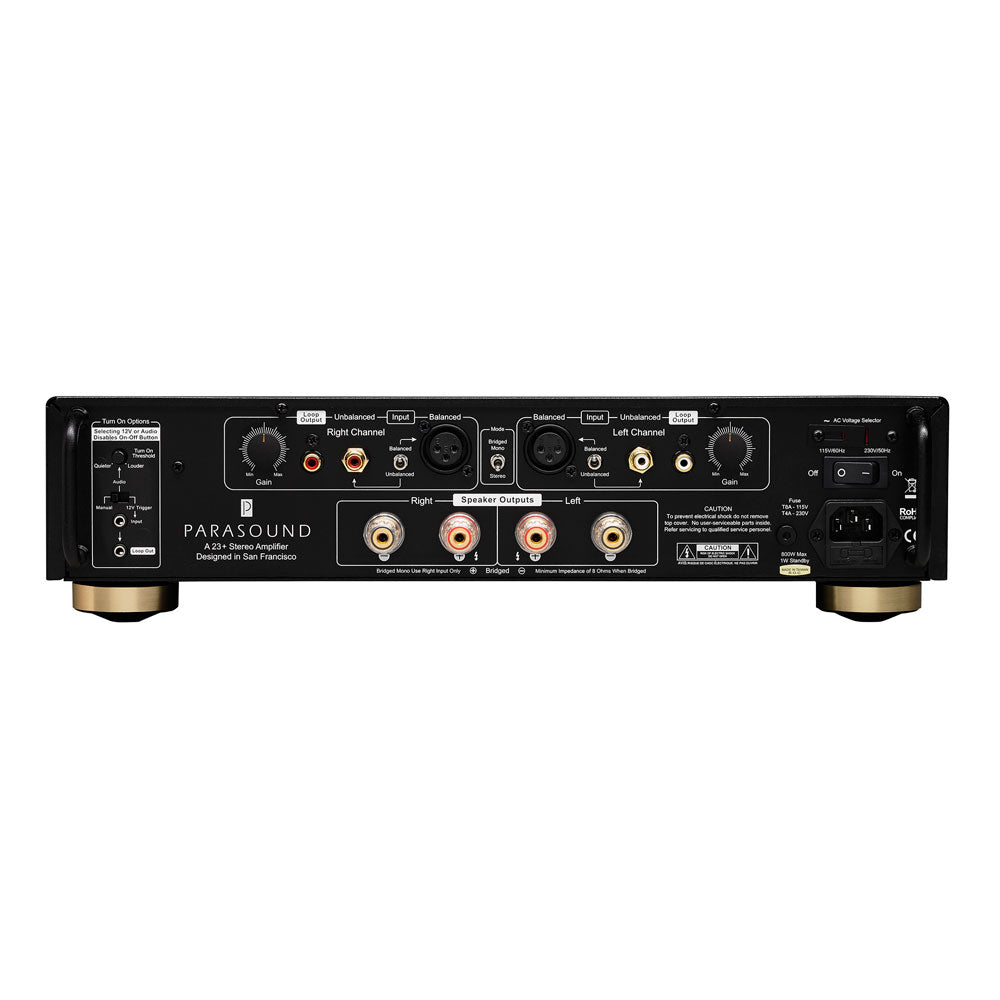 5% Discount
When you shop with Kronos AV, we want you to have the best experience possible, so if you are shopping with us for the first time, add any item to your cart and you will get 5% discount off your order. Just a little thank you for supporting a family owned and operated company, providing HiFi components for over 35 years. 
Please note: Excludes Sale, USED / EX Display / Ex Demo products
Buy with Confidence
OVER 10,000 happy customers