WANT 5% OFF THIS ITEM? - More info
Regular price
Sale price
£23,999.00
Unit price
per
Sale
Sold out
Part Exchange / Trade In Quote?
You may be asking whether the differences between turntables are really significant, and also wondering how much to invest in a good high-end turntable. For advice on what you should be looking for, we have several articles about how to make the right choice.
At the UKs best attended Hi-Fi show in Bristol, we demonstrated our premium Voyager Turntable with speakers costing a mere £169 and a subwoofer at £450. Asking the question "how good can vinyl sound with £169 speakers? Comments varied from awesome to very good with 3 reviewers saying it made the point. We also had an email from 2 professional musicians from the London Philharmonic Orchestra (not clients) who stated this was the best sound they heard at the show.
The Voyager platter uses intricate and unique mechanisms to create the equivalent of mechanical diodes. Traditional heavyweight platters are inadequate  as they reflect vibration from the cartridge to the record. Crude felt mats can only transmit certain frequencies which will cause timing problems.
The Voyager uses a multi-part platter designed to transmit energy at all frequencies without the reflection problems encountered in many platter designs. Energy is controlled by a series of shock absorption mechanisms created from long experience in controlling micro shock waves. Key components are made from highly specified alloys to achieve the highest energy transmission speed and low ringing effects. Material composition, profiling and the right damping methods are critical to accomplish this.
You will notice that the Voyager has many seemingly insignificant details. For example, lightening hole profiles and part shapes are all carefully derived from experience of structural analysis – vital for the correct management of micro-vibrations. This is not the brute force approach adopted by some spectacular decks where energy reflection seems to produce a lack of musicality and subtle mis-timing in micro dynamics.
The Bearing in the standard Voyager has been developed over two decades to yield extremely low levels of friction and vibration. Features include, micron precision, large diameter for absolute rigidity, and special oil.
The motors are specifically developed for powerful smooth rotation whilst maintaining very low levels of vibration. The drive belt consists of a low stretch, high grip material which is now widely recognised (in the form of our "upgrade belt") as a significant advance over ground neoprene belts.
Up to three, 9 to 12 inch tonearms can be mounted at the same time. Armboards are easily changed and adjusted to make a deck that is customisable and can be personalised to you.
The result is a deck with astonishing speed, clarity and accurate tonal balance. It will spoil you for all other decks.
Voyager-S Specifications and Features
The Voyager and Voyager-S version share the same overall form. The S-version goes much further in terms of sonic performance and no compromise engineering.
Every detail of the Voyager's design reflects meticulous attention to detail, ranging from the choice of high-strength aerospace alloys to hundreds of tests on various bearing oils.
The features listed below offer a brief overview of the advanced engineering embodied in a Voyager turntable – the culmination of 1,000's of hours in research and development by a leader in the field.
Platter
Multiple layers of contrasting materials to damp all frequencies evenly – critical to avoid the tonal imbalances of inferior platters.
Machined from solid billets of aerospace alloy to provide minimal flexure coupled with high speed energy dissipation.
Complex milled profiles disrupt resonance patterns
Shock absorbing devices decouple vibration
Motor vibration is blocked from entering the platter by employing a separated lower platter.
Plinth
The aerospace alloy plinth is shaped as an object of art with great looks and inspiring form whilst also possessing high rigidity.
Capacity to mount up to 3 arms of any length
Advanced decoupling techniques to avoid structural resonance
Special Coatings damp high frequency artefacts
Complex internal profiling of pillars
Satin and polished silver finish
Decorative strips in pillars
2 part armboard with additional lightening profiles milled in underside
Bearing
Low friction reduces vibration for increased transparency, resolution and separation.
Tungsten carbide ball bearing on hardened thrust plate.
Exceptionally low-friction oil
Ultra-straight bore achieved by specialist barrelling techniques
Running-surfaces precision-machined then honed to the nearest micron.
Drive System
Motors
Two High Torque, low cogging DC motors from a leading Swiss manufacturer.
Belt
Special low stretch, high grip belt material – superior to neoprene / polyester belts commonly employed. Delivers direct drive like timing.
Pulleys
Special hard-to-machine, high grip plastic pulley in preference to metal. Bored for accuracy as opposed to commonly used cheaper reaming as this can produce imperceptible pulley wobble. Higher precision creates rock solid timing with improved imaging and transparency.
Motor Speed Control & Power Supply
Speed control is electronically switched between 33rpm and 45 rpm.The two powerfull motors drive the platter at constant speed with no measurable deviation from absolute speed.  The high degree of accuracy derives from the high motor quality and superb low noise circuit design. This includes instanteneous load compenstion while absolute speed stability is achieved through super accurate measurement of actual platter speed (LSC).
Voyager's load-compensating power supply is the culmination of work done over several decades, and is designed to feed clean power to the motor across a wide range of temperatures. It uses sophisticated circuitry, higher grade components and a top quality transformer.
Transformer
Fully balanced specially wound transformer creates low noise, low impedance current delivery free of mains DC offset and other artefacts.
Specs
33.33 & 45rpm speed
Platter Mass 9kg
Overall Weight 27.8kg
Belt drive on DC speed motor
Share
View full details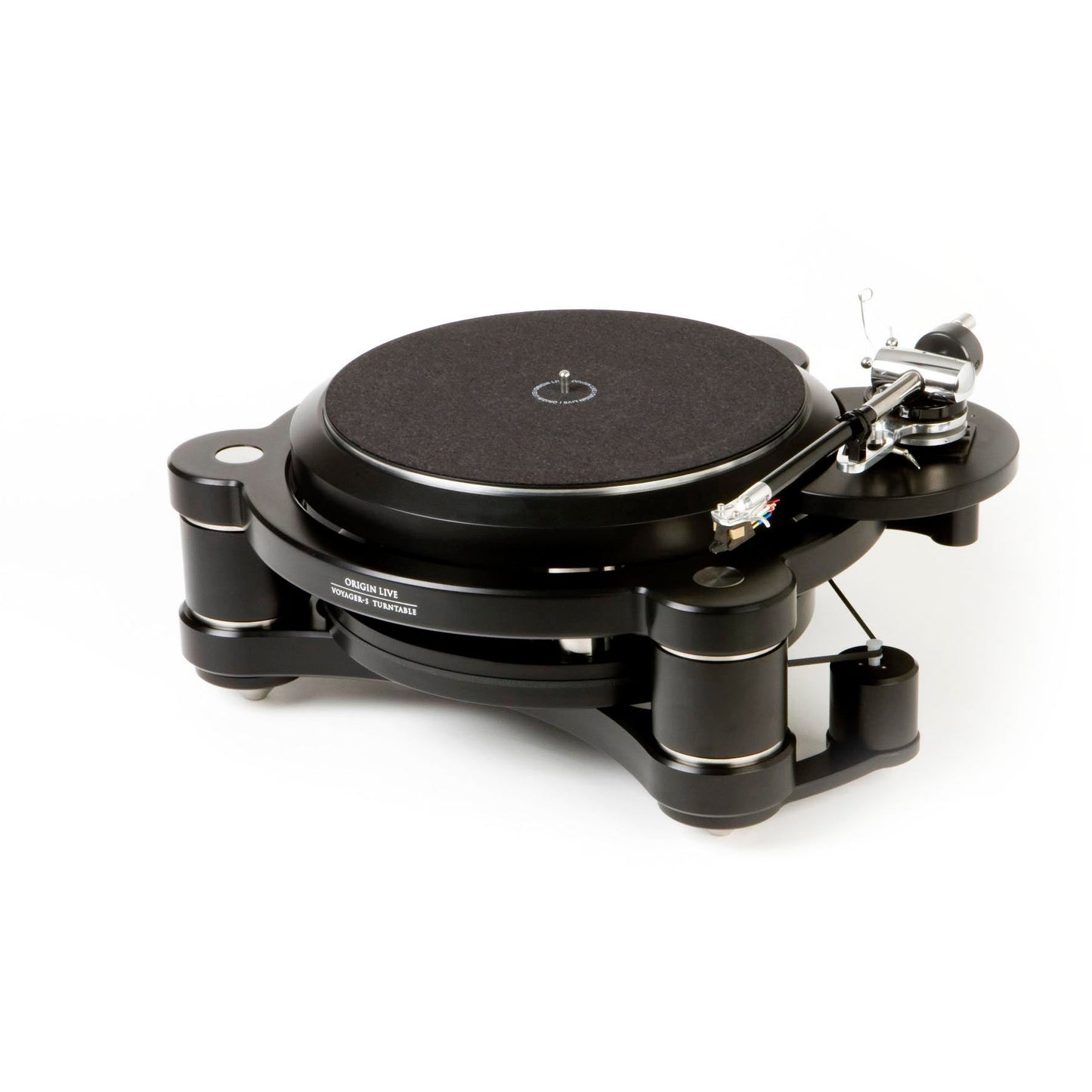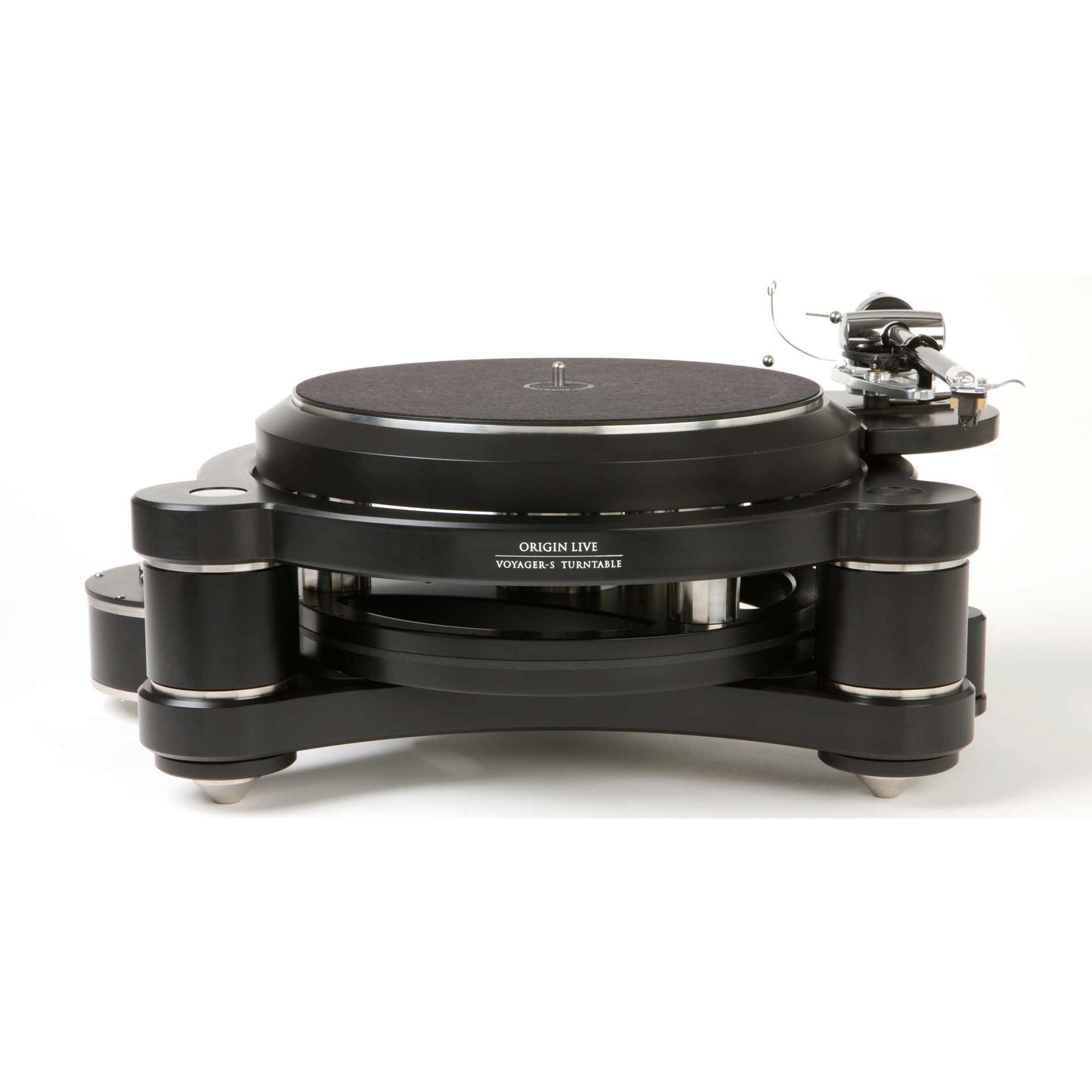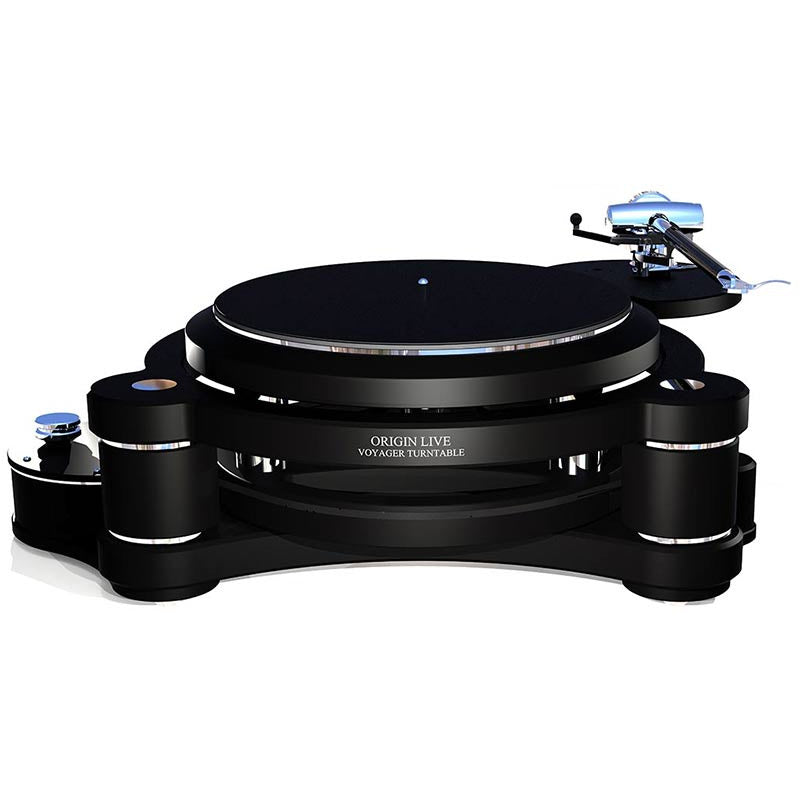 5% Discount
When you shop with Kronos AV, we want you to have the best experience possible, so if you are shopping with us for the first time, add any item to your cart and you will get 5% discount off your order. Just a little thank you for supporting a family owned and operated company, providing HiFi components for over 35 years. 
Please note: Excludes Sale, USED / EX Display / Ex Demo products
Buy with Confidence
OVER 10,000 happy customers