WANT 5% OFF THIS ITEM? - More info
Regular price
Sale price
£6,800.00
Unit price
per
Sale
Sold out
Part Exchange / Trade In Quote?
Sovereign Turntable Performance
The Sovereign MKV now features the Multi-Layer Platter Upgrade as standard. 
The Sovereign deck is a true high-end design. Extremely well specified, it looks and sounds fantastic – simply a near ultimate deck. The award-winning Sovereign Turntable is a favourite of many audio experts – and is owned by Hi-Fi magazine editors and reviewers alike
Sovereign MKV  & Sovereign Special – Features
The "Sovereign Special" Platter
The Sovereign Special differs from the Sovereign MKV by virtue of its remarkably upgraded multi-layer platter. As a rule, the closer a part is to the cartridge the more it affects the performance. You can't get much closer to the cartridge than the platter and this is where a lot of the magic happens in the highest performing decks. This particular version of the Multilayer platter features some of the key components present in the top of the range Voyager turntables. The result is a huge increase in detail, dynamics and clarity. Music comes alive in a way rarely heard even among the highest end decks. This version of the Sovereign is a highly worthwhile acquisition over the standard Sovereign.
Plinth
The plinth is high mass and uses systematic decoupling design throughout.
Drive System
Sovereign's load-compensating power supply is the culmination of work carried out over decades, and is designed to feed clean power to the motor across a wide range of temperatures.
Sovereign is hand-built in Britain to extremely high standards.
Superlative Style
Sovereign is a visually arresting turntable. Its unique styling is purposeful yet elegant, beautifully hand finished with a polished black plinth and chrome suspension pods and accenting.
High Grade Parts
High mass plinth using low resonance sandwich construction increases bass performance and overall definition
Triple plinth decoupling helps isolate the deck from its surroundings
Low resonance, high inertia platter is deeper than lower range models
Platter decoupled from the bearing with an acoustically inert sub-platter
Origin Live's most highly toleranced bearing for the lowest possible friction
Ultra rigid sub-chassis with unique centre point support and damping devices
Specially damped, high mass motor housing
Special high grade oi
Setting up
Thanks to its unique design, there is nothing to go out-of-tune. A non-suspended design, it is simple to set up for fuss-free performance. VTA arm adjustment is convenient, with open access to the underside of the armboard.
Dimensions
450mm wide, 380mm deep, 160mm high
Weight
32kg (heavyweight platter is an additional 2.1kg)
Features
Features in all MKV Turntables
Ultra Low Friction Bearing
The MK4 Bearing made in house improves on the already extremely high grade bearing of the MK3, renowned for it's low friction. The new bearing has ultra low levels of vibration thanks to further development. The spindle rotates on a Tungsten carbide ball bearing centered on a hardened thrust pad for low friction and long life.
Unlike decks which "float" the platter using air or magnetic bearings, we believe "earthing" the energy out of the platter is essential for sound purity. To this end we employ a single low contact bearing tip which acts as the energy transmission point.
Low bearing friction is essential to avoid vibration but even high end turntable bearings seldom achieve this. The problems we often notice are flawed design, imperfect straightness, eccentricity, tolerances, surface finishes and even the use of grease.
Oil
Oil is made to our own specification and upgrades nearly all other brands of deck which use non-inverted full immersion bearings. This is a clear indication of  it's outstanding quality for turntables.
Light Speed Controller
The MK 4 introduces the Light Speed Controller (LSC) on all decks with it's rock steady speed (better than most direct drives) and improved sonic performance. More on this important feature can be seen below.
Motor
All decks use powerfull, smooth running, Swiss motors. These high grade motors demonstrate the exceptional qualities needed in a good turntable motor such as low cogging, low vibration and ironless cores for elimination of eddy currents which detract from speed stability.
Motors are decoupled using a compliant pad and rubber O rings to minimize vibration and reduce audible noise.
Suspension
All Origin Live Decks use a single point cantilever suspension where the sub-chassis is mounted at a single semi-flexible point to isolate it from vibration.
The unique Origin Live suspension system avoids softening leading edges in music – which is observed in suspended designs and also avoids the hardness noticed in many non-suspended designs. The results are:
Superior pitch, rythm and timing
Great musicality which Origin Live products are renowned for (see reviews)
Rock solid imaging
Reduced colouration
Refined presentation of low level information
Easy to follow separation in the music and vocals
Belt
Surprisingly belt material has a significant influence on sound quality. We use a unique material which dramatically improves on widely used neoprene rubber. This is substantiated by reviewers and clients who use our upgrade belt to upgrade many other brands of belt driven turntables.
The belt is manufactured in house using special material which increases grip and reduces stretch under instantaneous loading – benefits include increased dynamics and deeper bass performance.
Pulley
Instead of the pulley being made from conventional metals and plastics, a well researched special plastic pulley enables maximum belt grip, resulting in increased definition and dynamics over
Adjustable Feet for easy leveling
Specs
Specifications included on all turntables
Speed 33rpm & 45rpm

Wow and Flutter 0.05%

Absolute Speed Stability 0.0001%

Mains Voltage can be 220 – 240V or 110V (Deck is configured for your country of residence).

Armboard will accept 9.5″ and 12″ Origin Live Arms (to order). Rega arms also accepted.

The Voyager deck will accept any brand of tonearm (to order).
TURNTABLE
Aurora
Calypso
Resolution
Sovereign
Voyager
Multi-layer Platter

No
No
No
Yes
Yes
High Performance Armboard
No
No
Yes
Yes
Yes
Motor

DC100
DC200
DC200
DC300
DC300 x 2
Sub-Chassis Inertia Disc
No
Yes
Yes
No
No
Heavyweight Plinth

No
No
No
Yes
Yes
Maximum Decouping on Main Bearing

No
No
Yes
Yes
Yes
"Footprint" of deck & Minimum Dimensions of Support Surface (cm) (WxD)
40 x 29
40 x 29
40 x 29
40 x 29
40 x 37
Overall Size with 9.5 inch arm see top line

 

(cm) (Width x Depth x Height)
For 12 inch arms use lower line

49x36x17
55x36x17
49x36x17
55x36x17
49x36x17
55x36x17
50x38x19
55x39x19
–
Weight (kg)
10.3
11.5
12.1
28.4
–
Shipping Dimensions (cm) (Width x Depth x Height)

60 x 45 x 16
60 x 45 x 16
60 x 45 x 16
60 x 50 x 30
–
Weight Packaged (kg) (Width x Depth x Height)

12
13.3
13.9
32

–

 
Share
View full details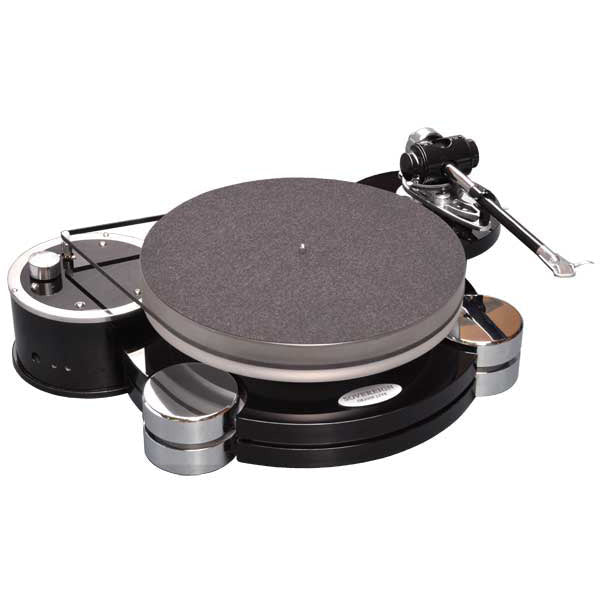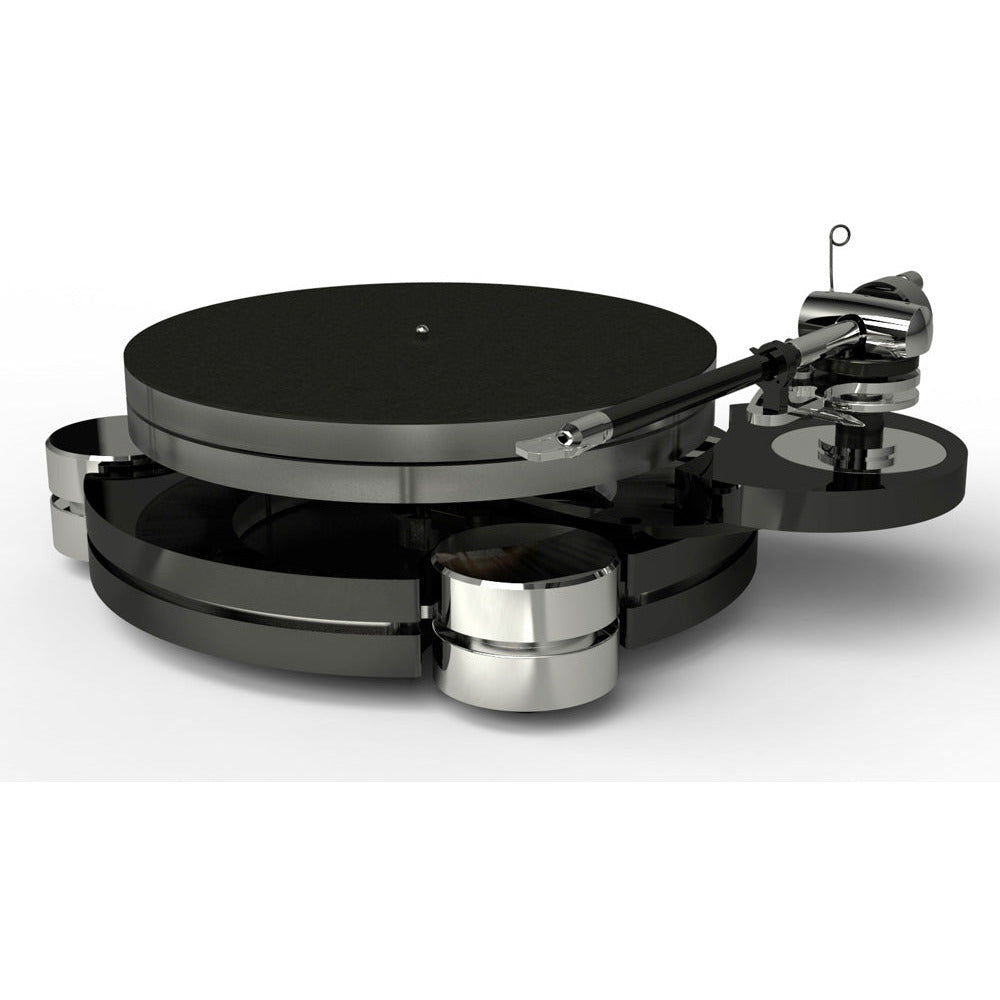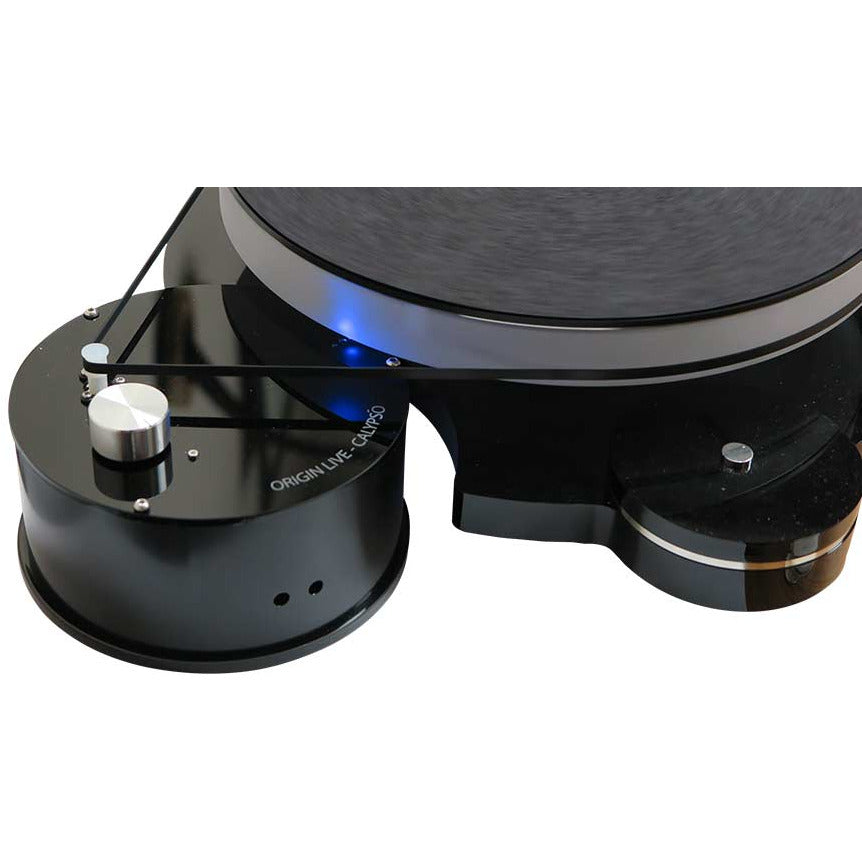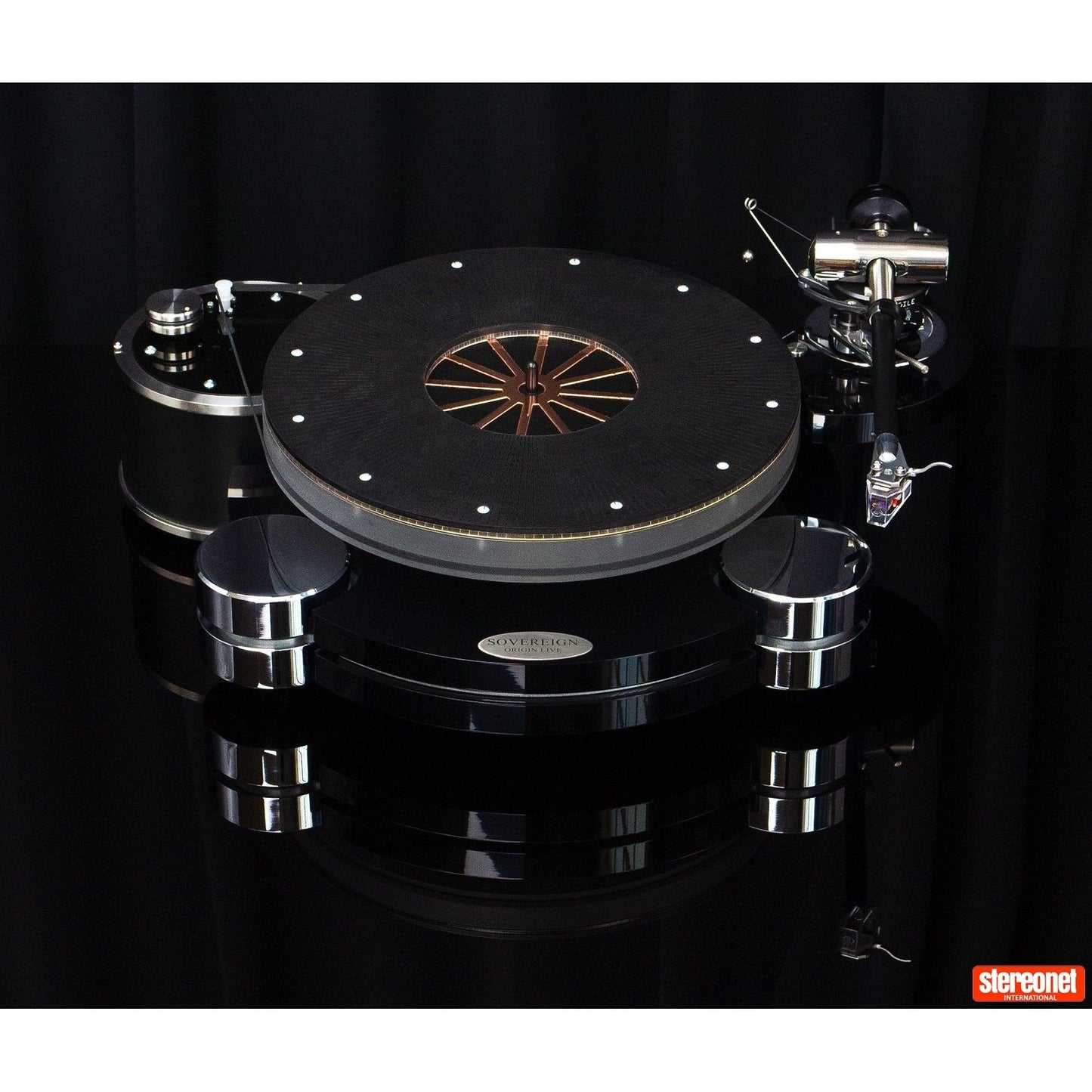 5% Discount
When you shop with Kronos AV, we want you to have the best experience possible, so if you are shopping with us for the first time, add any item to your cart and you will get 5% discount off your order. Just a little thank you for supporting a family owned and operated company, providing HiFi components for over 35 years. 
Please note: Excludes Sale, USED / EX Display / Ex Demo products
Buy with Confidence
OVER 10,000 happy customers