Reviewed By Richie - 12th June 2020
We took a little time out to have a sit down with the Luxman L-550AXII. we teamed it up with an Advance Paris X-Stream 9 Streamer, Audiovector R3 Signature Loudspeakers, Origin Live Aurora Turntable & Silver tonearm. We used TCI Speaker & Interconnects and a Titan Audio Helios Mains Cable. While the Luxman has a price tag of £4,999.00 we wanted to surround it with products that weren't going to give it any helping hands, so it would truly give us an impression of the sound that this amplifier is capable of. All of this equipment, (with the exception of the Luxman amplifier) is all very familiar to me, so I know the sound I should be expecting, when a good amplifier is put into the equation.
To begin with, let's look at the aesthetics of this product. Like all Luxman products I have seen, the build quality is exceptional, very robust and finished beautifully. I am always a sucker for VU meters, so that is a nice touch, and the available adjustments on the front panel for bass, treble and balance are also something which is a nice feature. All the connections on the rear of the amplifier are excellent and very robust. The amplifier comes with protective covers across all the RCA sockets, as well as protective covers for the speaker terminals, so even if you have inputs you aren't using, you can leave the caps on and keep them safe. Similarly while the Luxman does offer Speaker A & Speaker B options, if you are only using one of these, the protective covers can be left in to keep them safe.
The font panel is machined from a nice piece of solid metal, which is finished in a subtle Silver finish and the vented top cover is a darker grey which offers nice contrast to the front panel. The VU meters illuminate in a dark yellow/orange colour, which I quite like as they are very subtle
I tried numerous tracks with this amplifier, tracks which I am very familiar with so I know what to listen out for. I begin listening via Qobuz via the Advance Paris X-Stream 9. The first thing that hit me was the tone of this amplifier, what a beauty!! The tone is so gentle and natural, I could listen to this for hours!! At that point, I played Norah Jones - Come away with me. This is a track I know can catch out a lot of systems, and will show up brightness. I thought in my mind, if the tone is that gentle and natural, then there is no way it will be able to offer controlled detail, so my fear was brightness was going to be an issue.
"The Luxman was stunning, it delivered realism, dynamics and detail that I couldn't have imagined would be possible."
Absolutely not!!! Hitting those top notes, the Luxman was stunning, it delivered realism, dynamics and detail that I couldn't have imagined would be possible. The clinking of the piano was 3 dimensional and so well controlled. At that point I tried Jack Savoretti - Catapult. For anyone that knows Jack Savoretti, they know he has a very distinctive voice, and it has a very smooth, deep rustic tone to it.
This song adds a slight echo to Jack's voice which tends to show up amplifiers that can't handle 3 dimensionality and Jack also moves from soft, gentle vocals, to quiet vibrant, fast vocals very quickly, so dynamics were on test here as well. The Luxman took me by surprise again here, it was excellent, the tone remains beautifully natural, yet allows his vocals to push through effortlessly, and deliver realism throughout the track. The dynamics were fast, and flowed effortlessly. During this track there is a section which builds up into more instrumentals, and the bass there was so controlled and well contained. Simply beautiful.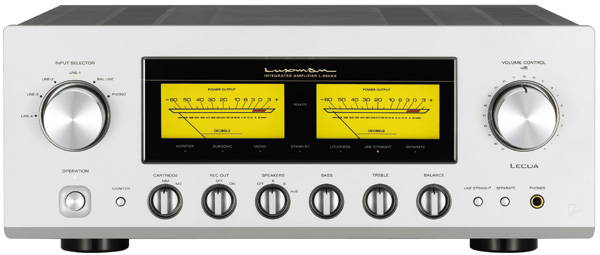 At this point, I got a bit picky, and wanted to catch the amplifier out, because I had no criticisms which isn't ideal for a review. So I tried Justin Timberlake ft Chris Stapleton - Say Something, as this song has exceptional bass lines, that a lot of amplifiers cannot control at all, so if there was a track to catch out the Luxman, this was a good contender. FAIL! The bass was so tight and controlled, it was effortless. During this song there are numerous clicks and claps in the background that follow the beat, as well as two artists, with very different voices, so this song offers challenges all over the place for amplifiers. The Luxman didn't even flinch. It controlled everything beautifully, and I found myself giving up and just sitting back and enjoying the music.
I then turned to vinyl, to see how the built in phono stage stood up. Bob Marley - Legend was played as I love the vocals in this track. I was using an Hana EL MC cartridge for this test. The tone remained so beautifully natural and gentle. Bob's vocals were crisp but never with even the slightest hint of brightness. At this point I tried a bit of rock. Foo Fighters - Greatest Hits, and "The Pretender" was the track I went for as this song has a moment where things change instantly, and for all intents and purposes is a bit mental. I wanted to also hear how it dealt with a more vibrant upbeat instrumental in the background.  If the Luxman could control all this going on then it had me.
It controlled the vocals so well, its hard to describe on paper, but it allowed Dave Grohl's voice to be loose enough that it had the desired impact, but had it controlled, so it was just spot on. The band in the background was so well controlled, and the detail it was able to produce, as well as 3 dimensionally was awesome. I could tell every instrument that was playing, and exactly where it was in the soundstage.
The changes in intensity on this song are quite frequent and often, but the dynamics never struggled, it just played through them without any problem or concern.
At this point I lifted a set of Dynaudio & Dali Speakers we had traded in, because I didn't really know them very well, so I thought let's give that a try. While I preferred the sound of the Audiovectors, I didn't lose anything that I described above, the only difference was the performance dropped a level for me.
I think for one of the first times in a review that I have done, I cant actually say anything against this amplifier. It is simply out of this world. Absolutely 10/10, 5 stars out of 5, against: nothing.
I am now off to see what finance agreements I can get for this…