WANT 5% OFF THIS ITEM? - More info
Regular price
$ 14,792.00
Regular price
Sale price
$ 14,792.00
Unit price
per
Sale
Sold out
Part Exchange / Trade In Quote?
The Phono Box RS is an ultra-low noise and distortion-free phono pre-amplifier for Moving Magnet (MM) and Moving Coil (MC) cartridges, made with the sophisticated audiophile in mind. The result is a device that not only offers a breath-taking performance, but is also extensively adjustable to work with any type of pick-up cartridge.
Internally, the Phono Box RS uses only the finest available components throughout in dual-mono configuration - like the SSM2019 pre-amplifier module from Analog Devices on the input stages, and Linear Technology's LT1010 as a high current buffer stage - which allows for a very clean sound, free of unwanted noise. The Phono Box RS is then connected into a system via either RCA or XLR connectors, making it one of the most affordable high-end balanced phono stages on the market. Due to the very low output impedance of the phono stage, it is easy to pair with a wide variety of quality cables.
For cartridge matching, there is an extensive list of settings adjustment available. On top of the usual Gain and Capacitance adjustments, the Phono Box RS boasts a fully adjustable dial for attenuating the Input Impedance. This allows for perfect matching with any Moving Coil cartridge on the market, and it can even be adjusted during playback to tailor the sound perfectly to your preference. To further suit individual tastes, there is also an option to choose between fully-passive RIAA or DECCA equalisation curves.
With the Phono Box RS, vinyl playback will never have sounded as clear, detailed and smooth than with this superlative phono stage.
Upgraded Power Supply
As an optional extra, you can also purchase the Pro-Ject Power box RS Phono, which is a Battery Power Supply upgrade for the Phono Box RS. 
The Power Box RS Phono is a specially designed upgradable power supply for the Pro-Ject Phono Box RS. The typical level of signal output on a moving coil (MC) cartridge is about 0.2mV which makes it incredibly vulnerable to all kinds of noise and electrical interference. The Power Box RS Phono is optimised to deliver the purest and cleanest power source to the phono preamp by utilising a battery power output to reduce mains interference and offer maximum sound quality. 
Key Features:
Purest & cleanest power for Phono Box RS 
Fully isolates Phono Box RS from mains interference and noise while playback 
Advanced Lithium Polymer battery (one for each channel) 
Playback time approximately 4 hours 
Charging time approximately 4 hours 
Optimised battery life due to intelligent micro-processor controlled charging electronics 
Status indicator LEDs on front
Available in black or silver
Key Features:
MM and MC compatible phono stage
Fully balanced dual-mono design
Fully passive RIAA equalization & DECCA settings available
Continuously variable input impedance setting
Impedance dial can be adjusted during playback
RCA / XLR In & Out
Superior low-noise and low-distortion circuitry
Elegant dip switch controls on the front panel
Metal casing protects against vibration and interference
Available with silver or black casework
Awards
Hi-Fi Choice, January 2015
Reviewed by:
Ed Selley
Feature:
Beautiful System – Pro-Ject
Components:
Pro-Ject Xtension 9 Super Pack
Pro-Ject Phono Box RS
Pro-Ject Pre Box RS
Pro-Ject Amp Box RS
Pro-Ject Power Box RS Amp
Comments of Note:
"Pro-Ject Phono Box RS - A genuine fully balanced phono stage with endless load and gain options adjustable tone curves and exceptional sound for under a grand, the Phono Box RS is an established favourite.
"The Xtension is a clever piece of industrial design that looks every inch the asking price and takes style to new places, though it remains unmistakably Pro-Ject."
"The Phono Box RS supports moving magnet and moving coil cartridges with multiple gain and loading settings – good, but far from unusual in terms of phono stage specification. It then goes on to add balanced inputs and outputs and the choice of standard RIAA and non-standard Decca equalisation curves. There are phono stages at 10 times the cost that can't match that." 
"The construction is a pleasing combination of immensely solid overall build that is then finished with some lovely and extremely high quality flourishes like the elegant speaker terminals and flawless piano lacquer that complements the equally wonderful job done by Pro-Ject on the Xtension."
Xtension 9 – "the big white Pro-Ject is an impressively neutral platform"
"the Xtension is an utterly stable, silent and exactingly competent method of digging every last shred of detail off a record."
"If these two former upstart brands (Pro-Ject & Acoustic Energy) have made the transition to become the new establishment, the next set of challengers are going to have to be truly sensational to repeat the feat. Welcome to the new order."
Hi-Fi News, December 2013
| | |
| --- | --- |
| Feature: | Group Test |
| Score: | 80%, Highly Commended |
Comments of Note:
"It's a lovely package if you're a tweaky turntable user, and even if you're not then it will impress with its superlative finish."
"The first few bars of The Crusaders track showed that this is a classy performer, with a refined tonality"
"It's got plenty of detail, set within a highly spacious soundstage"
"There's slightly less emphasis on the upper midband and treble than most, making this one of the smoothest to listen to."
"Things flowed along nicely, with a fine sense of order and control"
Hi-Fi Choice, February 2013
| | |
| --- | --- |
| Reviewed by: | Ed Selley |
| Score: | 5/5 Stars, Reocmmended |
Comments of Note:
"This is the best specified phono stage I have ever seen for under £1,000 and not for the first time on encountering a Pro-Ject product, I'm left wondering how they have done it for the price."
"Yes, you read that correctly! Pro-Ject has built a fully balanced phono stage for £600. There is a certain irony that a phono stage is one of the most suitable pieces of audio equipment to build balanced and yet examples of this are really rather rare..."
"Overall this feels like a very special piece of equipment and the only component that feels anything less than rock-solid is the power supply, but it is completely silent in use."
"Sonically, the RS is an impressive performer."
"The overall sonic balance of the Pro-Ject is commendably neutral, but it's able to accurately reproduce the behaviour of the turntable connected to it... The overall effect is that the Pro-Ject is extremely faithful to the source and the record."
"Overall, a serious bit of kit for the asking price, and there is no question the Pro-Ject has pulled out all the stops to produce something special. If you use multiple cartridges, the extremely flexible settings will allow you to get the best out of them and if you can go balanced, there is absolutely nothing that can match it for value. It also manages to feel special to use in a way that very few pieces of equipment under £1,000 can do. If the rest of the RS range is as capable as this, I can't wait to get my hands on them."
Specs
Input Impedance Settings:


Fixed: 10Ω or 47kΩ
Variable: 10 - 1,200Ω
Capacitance Settings:
100pF, 200pF, 300pF, 420pF, 520pF
Output Impedance:
50Ω
Gain Settings:


RCA: 40dB, 43dB, 60dB
XLR: 46dB, 56dB, 66dB
Signal-to-Noise Ratio:
-80dB (91dB - A Weighted)
THD:
0.019%
RIAA Accuracy:
Within 0.3dB (20Hz - 20kHz)
Subsonic:
20Hz / 12dB Per Octave
Inputs:
RCA & XLR
Outputs:
RCA & XLR
Power Consumption:
150mA DC / <1W (Standby)
Dimensions:


206 x 72 x 200mm
206 x 72 x 210mm (Incl. Sockets)
Weight:
2kg
Share
View full details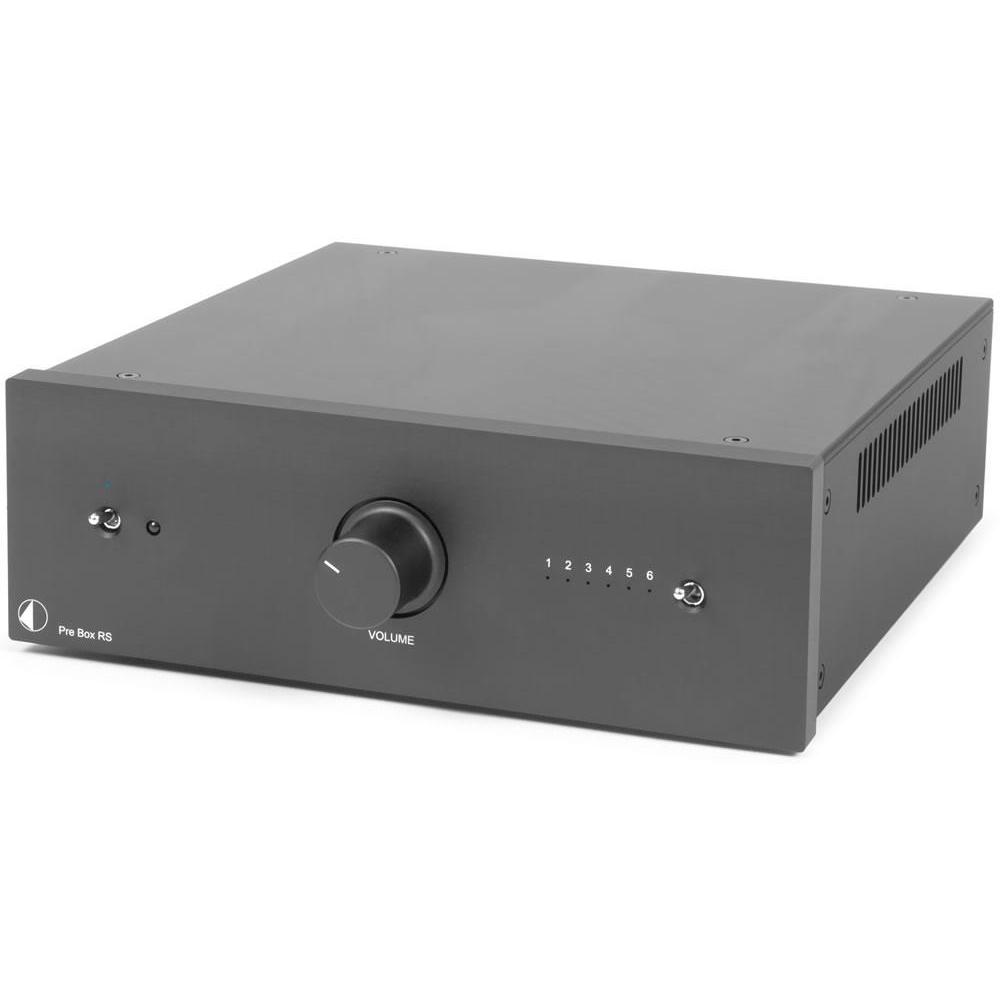 5% Discount
When you shop with Kronos AV, we want you to have the best experience possible, so if you are shopping with us for the first time, add any item to your cart and you will get 5% discount off your order. Just a little thank you for supporting a family owned and operated company, providing HiFi components for over 35 years. 
Please note: Excludes Sale, USED / EX Display / Ex Demo products
Buy with Confidence
OVER 10,000 happy customers