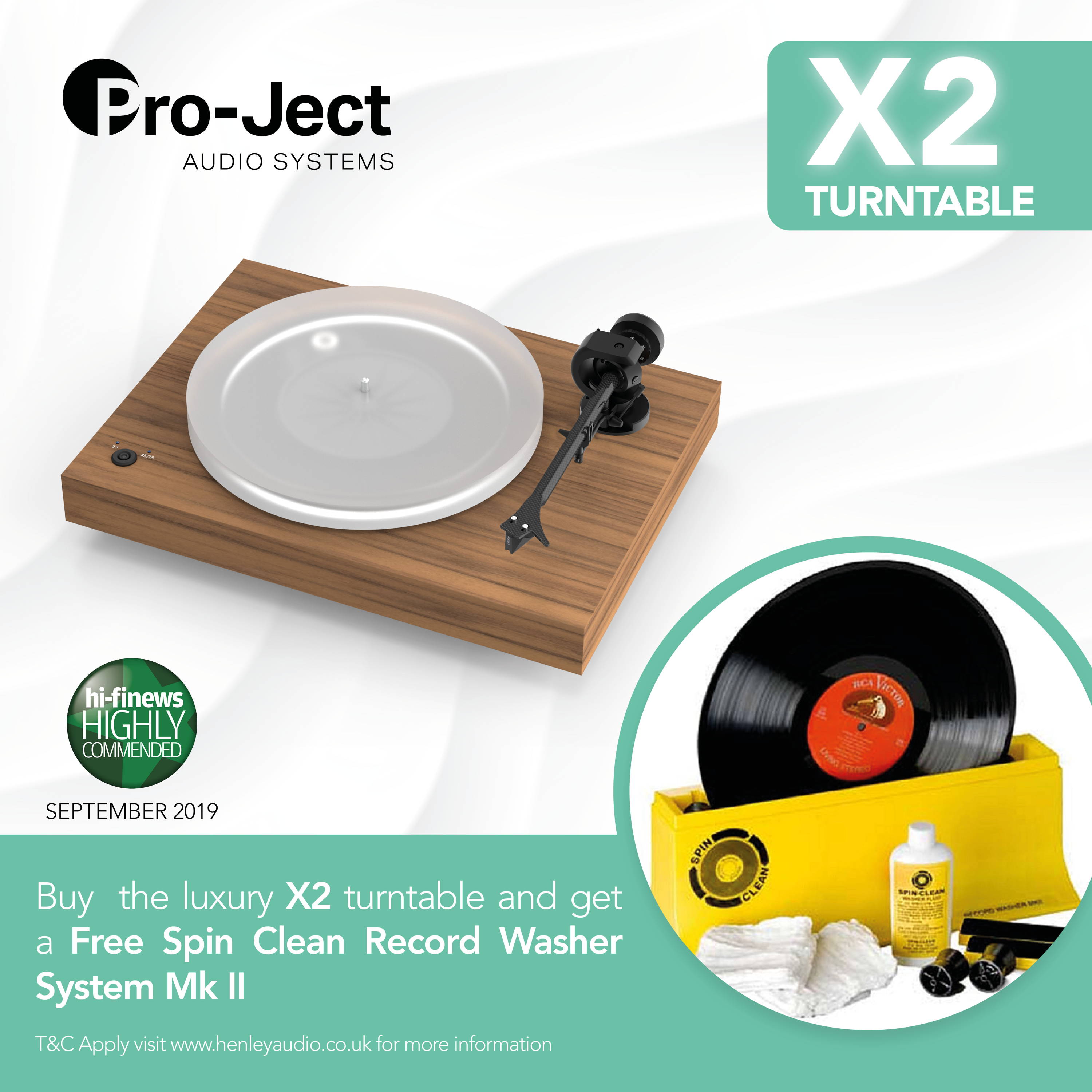 ---
×
BOOK A DEMO AT YOUR NEAREST BRANCH
About
Pro-Ject Audio Systems
Pro-Ject Audio Systems are widely recognised as one of the finest turntable manufacturers in the world. Their mission is simply to produce the best sounding stereo analogue components at the most competitive prices possible. The current series spans a wide range of price points, with a variety of products targeted to key demographics or to accommodate the modern listener's unique requirements.
In 2016, Pro-Ject marked their 25th anniversary year with the release of a turntable that combined traditional styling with modern technology; showing their innate ability to keep turntables fresh and interesting at a time when popularity of the vinyl format was at a previously unprecedented level. The Classic proudly sits in the middle of a multi-award winning range of turntables that manage to combine sound performance with the latest technologies and unrivalled style at every level.
Pro-Ject are also obsessed with the importance of stereo playback systems. With modern audio systems often bringing speakers either very close together or into a single enclosure, the real impact and importance of true hi-fi stereo is being lost. That's why everything Pro-Ject create is made with pure stereo applications in mind; bringing back the true emotional importance of music to audio enthusiasts around the world.
Based in Vienna, Austria, all Pro-Ject Audio Systems turntables are made by a highly skilled workforce with great skill, care and attention in their central-European factory.
---
Select option at checkout
0% APR Representative example. Credit subject to status and minimum order value.
---
The X2 is a luxury high-end turntable that delivers sonically and technically while maintaining a high aesthetic appeal – but without an esoteric price tag. Employing Pro-Ject's latest audio technologies, it stands apart in a market awash with "me-too" analogue products.
Structurally the X2 is supported by its large, heavy, dense and stiff MDF structure, reducing unwanted resonances to almost imperceptible levels. By adding this extra mass, the X2 is even quieter than previous versions, allowing the vinyl reproduction to become cleaner and more precise. Inside, it houses a sophisticated DC/AC generator board which, combined with the convenient speed control board (for automatic switching between 33 and 45 RPM as well as additional 78 RPM support), delivers clean and stable power to the silent motor system. For even further improved performance, the motor is carefully balanced and suspended on a precision tuned TPE belt; this way the motor chassis is effectively decoupled from the main plinth.
In the X2, the motor drives a new, heavy, non-resonant Acryl platter via a sub-platter drive system and a premium grade main bearing for liquid smooth rotation. This is the perfect platform on which to place your precious vinyl records, guaranteeing absolute reliability in its performance and sonic character.
The X2 also benefits from a super-stiff, precisely tempered Carbon/Alu sandwich construction tonearm with a wider tube, inspired by our superior The Classic turntable. This 9" tonearm design is incredibly light and stiff, with improved resistance to external interference and better internal damping. Finished as a one-piece, with no resonance-inducing headshell, the X2 tonearm can also be adjusted for accurate azimuth and VTA settings, allowing advanced analogue audiophiles to fine-tune more than ever before. The tonearm is then supplied with a TPE-damped counterweight, further reducing cartridge/tonearm resonances.
The X2 is packaged to suit anyone who cares about how their vinyl sounds. Supplied as standard with the popular Ortofon 2M Silver cartridge, manufactured by the cartridge experts at Ortofon specifically for Pro-Ject turntables, it can be ready to play within a few minutes of unboxing. Also supplied in the box are a pair of Connect-IT E RCA cables; a semi-balanced, low-capacitance cable with superior shielding that's optimized for turntable use. The turntable is then positioned on three height-adjustable, decoupling Alu/TPE sandwich feet for improved isolation from the structure it's placed upon. For safety when not in use, an acrylic dust cover is also included with the turntable.
The X2 is fine-tuned to focus on audio excellence. It has all the features needed for convenient day-to-day use, but no superfluous add-ons that start to negatively impact the sonic character. The end result is a highly engaging, musical turntable that delivers deep, detailed lows, crisp high frequencies and an engaging well-presented midrange. But due to Pro-Ject's advanced manufacturing experience, while delivering great sound the X2 is also a beautiful piece of engineering that can stand proud as the focal point in any home environment.
The X2 is available in four finishes; a premium walnut wood veneer, a luxurious black 8-layer high gloss paint, or black or white eight-layer hand-polished satin paint.
Key Features:
Luxury turntable without the esoteric price tag
Built-in electronic speed control for 33/45 rpm speed change (also supports 78 RPM playback)
Specially isolated, eletronically regulated precision drive motor with sub-platter system
Stainless steel platter-bearing with soft bronze bushing and teflon mirrors for minimal vibration
9" one-piece tonearm tube made from rigid carbon fibre and aluminium
TPE damped counterweight reduces arm-cartridge resonances by 50%
Tonearm supports azimuth and VTA adjustment, for advanced users
Ortofon 2M Silver super fast, super precise MM cartridge with silver coils and elliptical stylus profile
Heavy (2kg), resonance-free acrylic platter
Heavy (50mm thick), CNC machined MDF chassis with premium finish
Piano (Gloss) Black, Satin Black and White finish have luxury 8-layer paint and hand-polished finish
Walnut finish features real wood, satin-waxed veneer
Supplied with specially designed Connect-IT E phono RCA cables
Height-adjustable aluminium, vibration absorbing feet
| | |
| --- | --- |
| New Column | New Column |
| Speed:  | 33, 45, 78 (electronic speed change) |
| Principle:  | Belt drive |
| Platter: | 30mm thick acryl, 2kg heavy acryl |
| Mains bearing: | stainless steel |
| Speed Variance: | 33: 0.25%45: 0.20% |
| Wow & Flutter: | 33: 0.12%45: 0.10% |
| Signal to Noise: | 70dB |
| Tonearm: | 9" carbon/aluminium sandwich |
| Effective arm length: | 9"/230mm |
| Overhang: | 18mm |
| Effective tonearm mass:  | 13.5g |
| Tracking force range: | 0 - 30mN (18mN recommended for Pick-IT 2M Silver) |
| Included Accessories: | 15V DC/800mA power supplyDust CoverConnect-IT E Phono RCA CableFeltmat |
| Power Connection: | 110 - 240V, 50/60Hz |
| Power Consumption: | 4.5W max / 0.3W standby |
| Dimensions (W x H x D): | 460 x 150 x 340mm (lid closed) |
| Weight: | 10kg |
We are still delivering orders as normal. When your order ships you will still receive tracking details. For UK shipments, Our couriers have procedures in place to ensure deliveries are arriving as quickly & safely as possible. Drivers can now sign for your parcels, however will notify you that they have arrived, in order to ensure you receive your parcel. Signing for the parcel has now been stopped temporally for hygiene reasons. Drivers are also working with customer instructions, so you can ask them to leave the parcel in a safe place (doorstep etc...) if you prefer not to come into direct contact with the driver.
There has been no changes to deliveries with Brexit. All deliveries to the UK mainland, Northern Ireland and the Republic of Ireland are operating as normal. No VAT or charges are applicable.
We have several deomonstation areas in both of our branches. Please give us a call on 03435236169 or email support@kronosav.com to enquire about hearing products at your local branch.
Please always contact us before to make sure the product(s) are available
Express Deliveries
Express Delivery is FREE on all orders over £50. Express Delivery offers delivery in 24-72 hours from time of purchase. We use premium couriers for this service, mainly DPD & Royal Mail. DPD will offer you a one hour window for delivery to make sure someone is at home, or you can reschedule the delivery if no one is around.
Standard Deliveries
Here at Kronos AV, we have vast experience with e-commerce sales. Making sure that your parcel arrives undamaged is a huge priority for us. That's why at Kronos AV, we only use premium couriers for all our orders. All our parcels are shipped with DPD or Royal Mail and are always sent Signed For to make sure it gets to the right person.
If for any reason your parcel does arrived damaged, please get in touch, and we will be happy to get everything resolved for you. We are always on hand to help!
Details
Delivery is FREE on all orders over £50. In order to offer FREE delivery to UK customers, we use several premium couriers to ensure your delivery arrives safe.
Most large orders (over 2kg) ship using DPD or DHL courier and smaller orders (under 2kg) by Royal Mail signed for services.
The most appropriate courier will be chosen for the items ordered to ensure the quickest possible delivery.
We can offer very generous trade in offers across the majority of our product range. 
Why not ask and see how much you HiFi is worth!
To find out how much your HiFi is worth... Click Here
If you have any question, please feel free to call us on 03435236169 or email support@kronosav.com
---
---