About
Paradigm
Better Sound by Paradigm
Paradigm is a better brand of audio. With better audio comes a better experience. We've been building better audio for more than 30 years. Unlike almost every other audio manufacturer, we have our own sound research and development facilities—a 36,000-cubic-foot anechoic chamber to take accurate sound measurements and our own double blind listening rooms to test every product we produce. We've won hundreds of product awards and garnered thousands of rave reviews.
---
---
When size and sound matter 

While it's true, there are tiny satellite speakers aided by small subwoofers that can be "hidden" in many living spaces, when it comes to great audiophile sound these systems had never delivered … until Cinema. For years now, our award-winning Cinema speakers have been delivering a seamless music and home theater soundstage that brings movies to life and makes music sound "live." Rumour has it that with this new generation of Cinema speakers, sound may be even better than the movie.
---
Superior 8˝ High-Excursion Driver made of a durable reinforced polymer composite that in concert with the superior suspension system and motor/magnet structure allow the cone to travel farther while maintaining effective control.

Built-In High-Current, Discrete Output Amplifier: 300 watts Dynamic Peak / 100 watts RMS Sustained.
Dual Ported Design for even and articulate response.

Amplifier Controls:
Auto On / Standby / Soft Clipping
Subwoofer Cut-Off Frequency
Sub / Sat Phase Switch – 0° or 180°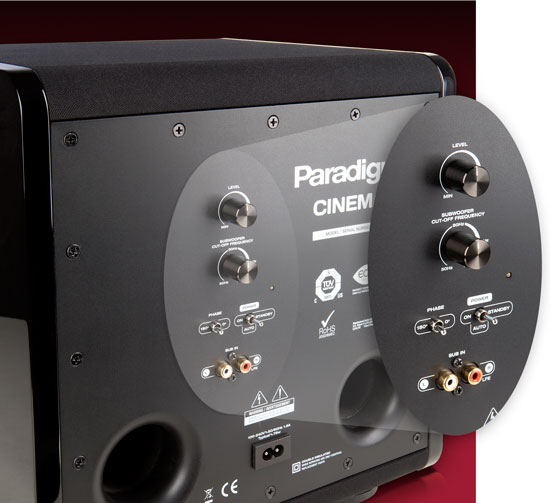 Inputs:

Two aesthetic placement options … gloss side up or cloth side up. Includes four easy-to-install feet.
We have several deomonstation areas in both of our branches. Please give us a call on 03435236169 or email support@kronosav.com to enquire about hearing products at your local branch.
Please always contact us before to make sure the product(s) are available
Here at Kronos AV, we have vast experience with e-commerce sales. Making sure that your parcel arrives undamaged is a huge priority for us. That's why at Kronos AV, we only use premium couriers for all our orders. All our parcels are shipped with DPD or Royal Mail and are always sent Signed For to make sure it gets to the right person.
DPD gives you an hourly window for delivery so you can make sure you are home, and you can of course track your parcel all the way from despatch to your front door, offering you peace of mind.
If for any reason your parcel does arrived damaged, please get in touch, and we will be happy to get everything resolved for you. We are always on hand to help!
Details
Delivery is FREE on all orders over £50. In order to offer FREE delivery to UK customers, we use several premium couriers to ensure your delivery arrives safe.
Most large orders (over 2kg) ship using DPD or DHL courier and smaller orders (under 2kg) by Royal Mail signed for services.
The most appropriate courier will be chosen for the items ordered to ensure the quickest possible delivery.
We can offer very generous trade in offers across the majority of our product range.
Why not ask and see how much you HiFi is worth!
To find out how much your HiFi is worth... Click Here
If you have any question, please feel free to call us on 03435236169 or email support@kronosav.com
---
---